My Kingdom
(2011)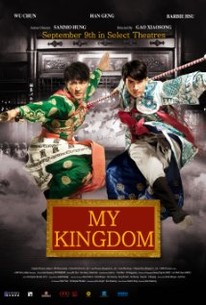 AUDIENCE SCORE
Critic Consensus: No consensus yet.
Movie Info
My Kingdom is a tightly-woven tale of two brothers' quest for fame, love and revenge, back dropped by the Shanghai opera stage during its 1920's heyday. The story blends martial arts onstage and offstage with a suspense-filled love story defying the genre of martial arts epics today. -- (C) Official Site
Critic Reviews for My Kingdom
Audience Reviews for My Kingdom
Forty-five Minutes In. There are certain practices in the long tradition of Chinese cinema that have been used by the most talented Chinese film makers and the least talented. Such as moments of staring up into the sky after a dramatic announcement, showy martial arts maneuvers, revenging a master, and trying to shove a whole life story into the first twenty minutes of the film, to explain character motivation. Sometimes these practices are pulled off well, heightening the experience of the film. In the hands of others, however, these tricks of the trade become the most painful of cinematic tortures. Forty-five minutes into the film My Kingdom, I decided it was clearly torture. The story centers around two boys living in early 20th century China. Gaun Yi Long, played by Wu Chun, and Meng Er-kui, played by Han Geng . Yi Long is an opera student who begs his master to save Er-kui, after he hears him sing at the execution of his family. Er-kui is being executed with his family as a punishment for something his father was accused of, but of course, is innocent of. A few years later, I assume, the boys witness an arrogant opera master, Master Yue played by Yu Rongguang, defeat their master, Yu Shengying, played by Biao Yuen, in a duel. This means that Master Yu has to break his spear and never perform again, a tradition I was unaware of in Peking Opera. Keep in mind these people are actors portraying heros from Chinese history. Their duel is not of acting skills, but fighting, of course. The two boys train in a mountain mansion with their master until old enough to go to Shanghai to challenge Yue, because all opera troupes with out of work masters have the money for mountain mansions that are built into the rock itself. Their master warns them against challenging Yue, and getting involved with actresses, they forget these warnings right after the master sets fire to the mansion with himself inside, and head to Shanghai. There they immediately challenge Yue, win and take over his opera troupe, complete with his actress girl friend, Xi Mu Lang, played by Barbie Hsu. Shortly after this the two began to grow apart and compete for the affections of Mu Lang along with police general Lu, played by Louis Liu. While all of this was going on, there was horrible acting, cheap looking costumes that didn't match the era, bad CGI, and fight scenes that would only impress people new to Chinese choreography. As stated before, this was all in the first forty-five minutes. So much of this film bothered me and I really wondered what kind of history director Gao Xiaosong was exposed to as a child. The costumes and hair was not period, but some mix of modern with impressions of 1920's China. The two leads at one point look more like modern day hipsters than youths of that era. Lu looks more like a anime villain than any Chinese general I have ever seen. His hair sweeps down and hangs in his face in classic Harajuku style. This cheap unreal look continues on in the sets as well. Several wide shot scenes are CGI and don't blend in well with what is real. The scene when they brothers reach Shanghai is an example. The harbor and famous Bund are all rendered in CGI, the street they end up walking down looks like a freshly painted set from a 1950's Hollywood movie, unconvincing. The treatment of Peking Opera in this film also bothered me. The people involved in Peking Opera were not trained warriors, they were actors, they were pretending. They never dueled each other in combat. It wasn't uncommon for different troupes to put on competing performances of the same opera, but not fight each other. Also, women were never allowed to perform in Peking Opera. Today that oversight has been rectified, but historically they never would have been allowed on stage. Young boys were the ones playing the female roles. Last, in the early 20th century Peking Opera was struggling. It was seen as a part of Chinese culture that was corrupt and weakening the Chinese character. People wanted to be modern and watch movies, or Dianying, electric shadows. In My Kingdom, Peking Opera is a booming business that makes Yue rich and fills theaters to watch him 'duel' two young actors. I'll be honest, I didn't make past the first forty-five minutes. I know for some that might disqualify my opinion of the film. However, I believe that our time is something to be cherished and better spent on other pursuits than bad film. While many of the aspects of this film were straight out of the Chinese cinema playbook, Gao Xiaosong should leave the playbook in the hands of the masters.
Shaun Brammer
"My Kingdom" is a tale about Beijing Opera - a specific form of opera with martial arts incorporated... the story begins when at the turn of the twentieth century, a Prince Regent who ruled China tries to solidify his rule executing whole clans of martial artists, including children. One boy, Meng Er-kui, sang as he was led to the headsman and was rescued and taken in by Master Yu Sheng-ying (Yuen Biao), to be trained and raised as a brother to Guan Yi-long. The beginning of the movie was very well done and I really enjoyed opulent costumes and elaborate recreations of 1920s Shanghai. There's not a frame that doesn't seem to have some sort of detail that makes the audience grin: from mysterious General Lu (Louis Liu) who lounges in the back of the theatre like something you'd see in a movie from the period to the two brothers' wardrobes who change from the traditional costumes of the rural Chinese to a more western hayseed look to Yi-long's spiffy suits and top hats. Very colourful backdrop with really amazing action scenes choreographed by the great Sammo Hung, are bringing interesting real "opera duels", where the object is much more to demonstrate smoothness of form than to inflict injury... But, there was heaps lacking in the chemistry of the actors - not all the casting was perfectly done! That's how we can go from the exceptional scenes like the battle between Yi-long & Er-kui and Yue (with Mu-lang on the periphery) to completely flat action skills of Barbie Hsu. One of the critics wrote that "My Kingdom" has weaknesses, and while it addresses them, it doesn't quite do so smoothly... and I agree with that 100%! The action peaks too early and it was quite high... which means that from there on everything was going downhill. But, still, if you have a chance, I'll say - watch it!
My Kingdom Quotes
There are no approved quotes yet for this movie.
Discussion Forum
Discuss My Kingdom on our Movie forum!