My Little Pony: The Princess Promenade
(2006)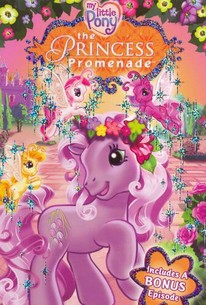 AUDIENCE SCORE
Critic Consensus: No consensus yet.
My Little Pony: The Princess Promenade Photos
Movie Info
As the Ponyville spring parade draws near, Wysteria's elaborate plans for the floral festivities are threatened by the awakening of a 1,000-year-old dragon and the coming crowning of a new princess. With her gardens in bloom and her friends all preparing for the upcoming spring parade, Wysteria is devastated when she inadvertently awakens Spike the dragon from his millennium-long slumber. Legend has it that when a dragon is awakened, a new princess is to be crowned -- but who could it be? As the inhabitants of Ponyville eagerly await the announcement of the new crowned head, they are about to learn important lessons in both what it takes to be a princess, and what it means to be a true friend.
Critic Reviews for My Little Pony: The Princess Promenade
Audience Reviews for My Little Pony: The Princess Promenade
This is not what you think! I gave this film a shot after seeing how high of a rating it had on imdb, and wow was I stunned. Not only is this emotionally resonant, but it is a poignant social commentary of present times. There is alot here for adults, underlying themes, and alot of metaphysical symbolism. DO NOT pass this gem up! More people need to be aware of this! Near Pixar quality, with heaps of heart, and alot better than most of Dreamworks animated films. Check it out on imdb: http://www.imdb.com/title/tt0490668/
It's not often that you see something of this variety, without a big name attached. Although a children's fable, it has risen from those ashes, a Phoenix, blaring into the day. Could it really have the simple plot of getting ready for a parade, when there is such an underlying tone of social redemption, zionism, and communist ideals? Even with it's immense folds of wisdom to give, it is amazingly a child's pony movie.
Spencer S.
Super Reviewer
My Little Pony: The Princess Promenade Quotes
There are no approved quotes yet for this movie.