Morirse esta en Hebreo (My Mexican Shivah)
(2007)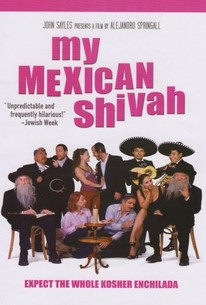 Movie Info
The passing of a Mexican Jew whose appetite for life was stronger than his spiritual discipline makes for a difficult set of funeral arrangements in this comedy from filmmaker Alejandro Springall. Moishe (Sergio Klainer) was a happy-go-lucky guy living in Mexico City's Jewish quarter until the day he died -- appropriately enough while dancing at a party for a local Hebrew theater troupe. While Moishe was a man with plenty of friends, most of the folks he left behind to arrange his funeral don't have much good to say for him. Moishe's daughter, Esther (Raquel Pankowsky), has long been bitter about the fact that he cheated on her mother, and with a Gentile to boot. His son, Ricardo (David Ostrosky), didn't much care for his dad, and at the moment is more concerned about the unexpected pregnancy of his short-term girlfriend. Moishe's grandson, Nicolas (Emilio Savinni), was forced to flee Mexico after being convicted on drug charges; having returned home, he's become a reactionary Orthodox Jew with nothing good to say about Moishe's lifestyle. The local rabbi (Lenny Zundel) has his own ideas about how to conduct the funeral and mourning period, which don't agree with Moishe's view of the world. And Galia (Sharon Zundel) is too busy dealing with her new passion for her cousin Nicholas to focus on her grandfather's passing. Morirse Esta en Hebreo (aka My Mexican Shivah received its North American premiere at the 2006 New York Jewish Film Festival.
Rating:
NR
Genre:
,
Directed By:
Written By:
In Theaters:
On DVD:
Runtime:
Studio:
Critic Reviews for Morirse esta en Hebreo (My Mexican Shivah)
Audience Reviews for Morirse esta en Hebreo (My Mexican Shivah)
½
If you want to watch a highly funny movie, well this is the wrong one. The story is not bad, but maybe it would have worked more as a drama..... You want a movie about a dysfunctional jewish mexican family Cinco Dias Sin Nora (Nora's Will) is a lot better!!
Ana Araiza
½
Okay, *I* thought it was funny. I'll have to show it to some non-Jewish friends to see if they think it's funny. I would have thought one didn't need to be Jewish to see the humor, but judging from the other reviews, maybe not.
Heather Gilmer
It was a nice try, but they didn't quite pull it off. The actors were all terrible, and the script wasn't very good. Occasional laughs, good direction and cinematography save this film from being a total mess.
Fernando Rafael Quintero Castañeda
Super Reviewer
Discussion Forum
Discuss Morirse esta en Hebreo (My Mexican Shivah) on our Movie forum!