Yeopgijeogin geunyeo (My Sassy Girl)
(2001)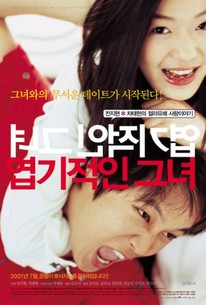 AUDIENCE SCORE
Critic Consensus: No consensus yet.
Yeopgijeogin geunyeo (My Sassy Girl) Photos
Movie Info
This frothy romantic comedy from Korea begins with Kyun-woo (Cha Tae-hyeon), a ne'er-do-well college student, meeting a very drunk girl (Jeon Ji-hyeon) on a subway platform. After he helps her onto the train, she promptly vomits on another passenger's head (twice) and then passes out. Since everyone else in the train car assumes that she's his girlfriend, he carries her to a hotel room to sleep it off. Another series of mishaps brings a police raid while he's in the shower, and thus begins a wild roller coaster rise of a relationship. The rest of the move has her putting him through a battery of often humiliating tests to prove his love. Near the end a revelation about her past briefly drives them apart, but a twist of fate brings them together for a happy ending. ~ Tom Vick, Rovi
News & Interviews for Yeopgijeogin geunyeo (My Sassy Girl)
Critic Reviews for Yeopgijeogin geunyeo (My Sassy Girl)
Audience Reviews for Yeopgijeogin geunyeo (My Sassy Girl)
½
An overtly nonsensical roam-com, but fine for its genre. Also, putting aside its nonsensical part, the dramatic story of how two lovers separate and finally re-unite (oddly enough or not, I wasn't able to figure out that this could be a way of their re-union) is quite effective. The quirky performances by the protagonists only help elate its effectiveness and make it worth a watch which might otherwise have been a tough journey to go through.
familiar stranger
Super Reviewer
If I was to compile a list of my favorite romantic comedies (admittedly not my go-to genre), "My Sassy Girl" might sit comfortably at the very top. Few (if any) movies of this kind have effected me as deeply and hit me as hard. The film traces a very unconventional relationship between two quirky, but effortlessly lovable, characters; Kyun-woo a good-natured college student and the nameless "girl," a complex, charming yet highly unpredictable individual. After a chance meeting on a subway platform (which comically results in his arrest after he saves her life and attempts to do the right thing), Kyun-woo falls head over heels for "the girl," who strikes us and him as a complete anomaly. Despite their blossoming relationship, it's unclear if the girl's feelings are romantic in nature, since their interactions mainly revolve around Kyun-woo getting slapped, punched, threatened, and humiliated for her pleasure! Conflicted, Kyun-woo can't help but deal with these quirks in the hopes of something more, but the more that's revealed about the girl's past, the more strained their relationship becomes. "My Sassy Girl" is a completely original movie, romance or otherwise. It handles an age-old trope with such honest sincerity and eclectic execution. It's a comedy first and foremost (unexpectedly an hilarious one) even bordering on farce at times (the film's fantasy sequences are a terrific touch), but has the confidence to grow more serious and emotionally raw as it goes along. It does so without turning sour tonally. It's an organic transition for a film that is happy, sad, funny, and resonant in it's depiction of a peculiar albeit refreshingly innocent romance. The film wouldn't work nearly as well without the terrific casting. Tae-hyun Cha and Gianna Jun are utterly terrific and deserve to be placed on any respectable list of the finest screen couples. They are tremendously likable and even in their character's respective eccentricities, they seem so genuine and we root for them. As abusive as "the girl" is, we can see why Kyun-woo is inexplicably smitten with her; and vica versa! The last act of the film is emotional brilliance. If you aren't touched by the end of this, you either aren't human or had a VERY bad day prior. This is the rare movie that actually earns our tears with superb writing,. direction, and performances. "My Sassy Girl" is one of the great romantic films, effortlessly blending honest drama and pure comedy. It's a treasure of it's genre and international cinema and harbors something of worth for pretty much any viewer.
Hopelessly cliche, yet effective.
Edward Boxler
Super Reviewer
Yeopgijeogin geunyeo (My Sassy Girl) Quotes
There are no approved quotes yet for this movie.