My Sister's Keeper
(2002)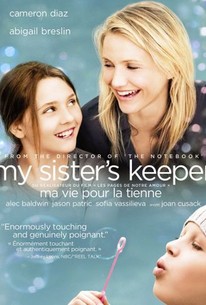 AUDIENCE SCORE
Critic Consensus: No consensus yet.
Movie Info
Ron Lagomarsino directed this made-for-television family drama, adapted from the book by Margaret Moorman. Elizabeth Perkins and Academy Award-winner Kathy Bates star as sisters who come closer together, while struggling to cope with Bates' bipolar disorder. Applauded by critics for its realistic depiction of mental health issues, My Sister's Keeper is a Hallmark Hall of Fame production and co-stars Lynn Redgrave and Bobby Harwell.
Critic Reviews for My Sister's Keeper
All Critics (2) | Fresh (2) | Rotten (0)
Melodramatic and commercial elements try their best to turn you away but this moving, provocative drama will grip your heart -- and hold it.
Pulling at our heartstrings, director Nick Cassavetes collaborates with The Notebook screenwriter to deliver an acutely sensitive screenplay exploring the inexplicable. Issues of morality, determination & inevitability swirl around those of life & death

Audience Reviews for My Sister's Keeper
I always enjoy Hallmark movies, and I think they did an excellent job on this story. Kathy Bates is a wonderful actress, and adds a lot to this nice little movie.
Cynthia S.
Super Reviewer
As a person living with a mental illness, I would like to recommend the movie, "My Sister's Keeper". This is a movie that follows two sisters, with the older sister "Krissy" having been diagnosed with schizoaffective disorder, from childhood all the way through middle age. Although the younger sister "Judy" had great difficulty accepting the behaviors and actions of her Krissy while she was suffering from symptoms related to her mental illness, she could not deny or dispute her connection with her sister. At one point Judy wanted to deny Krissy her autonomy and came across as embarrassed, controlling and stifling. This reaction was likely due to her mother's influence on dating back to their childhood. Their mother held back her true feelings, seemed ashamed of Krissy and hid her disorder from everyone she could. Despite the reactions by her family, Krissy showed her ability to live a robust life, make her own decisions, live independently and charmingly verbalize when she needed psychiatric attention. Judy seemed double-minded in that she had one foot on one side of the fence, and the other foot on the other side when it came to including Krissy in her life. It seemed that the only thing she was sure about was capturing Krissy's life through portraits. Krissy was less restricted by the mental illness than Judy was, with Judy even saying "You've lived what I have only been able to paint". In the end, after gaining strength from a support group for people with family members who have a mental illness, Judy appeared more content with her sister's diagnosis and its effect on her life. Krissy's contentment with her own life and her ability to live and persevere, finally allowed Judy to open up her life and friends and work to Krissy and everything that Krissy stood for. To conclude my review, My Sister's Keeper although somewhat of an idealized portrayal of family relationships with in a mental health paradigm, the thought of a family relationship where accountability is reciprocated resulting in respect and love for one another is appealing to the point that one strives for such a thing in ones own life mentally ill or not.
Tim Larson
There were several parts of this story that were portrayed well, from raising awareness of the condition itself, to both view points of sufferer and family. There were times when the film could have been a little more interesting and seemed more like a made for tv type of film ? but interesting none-the-less.
Lady D'arbanville
Super Reviewer
My Sister's Keeper Quotes
There are no approved quotes yet for this movie.
Discussion Forum
Discuss My Sister's Keeper on our Movie forum!