My Son, the Vampire
(1952)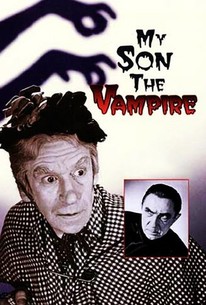 AUDIENCE SCORE
Critic Consensus: No consensus yet.
My Son, the Vampire Photos
Movie Info
A mad international criminal, Von Housen (Bela Lugosi) -- who fancies himself a vampire (and sleeps in a coffin), and has plans to take over the world -- arrives in England. Over the next six weeks a dozen young women disappear without a trace, and Scotland Yard is certain that Von Housen, whatever else he may be planning, is behind these crimes. The scientist proceeds to put his plan to rule the world into operation, having a very dangerous robot shipped to his secret laboratory -- but thanks to a comic mix-up in shipping labels, the robot is delivered instead to the nearly bankrupt shop owned by Mrs. Riley (Arthur Lucan), a conniving old Irish char woman. Von Housen retrieves the robot by remote control, but Mrs. Riley is brought along for the ride, and she proceeds to disrupt his plans for world domination.
Critic Reviews for My Son, the Vampire
Audience Reviews for My Son, the Vampire
The plot of this movie is too silly, I mean what does a vampire want with a robot? And what does the title mean? who's son is a vampire? This is just another excuse to get Lugosi to play a vampire again, which is cool, but he needs a better story.
My Son, the Vampire Quotes
There are no approved quotes yet for this movie.
Discussion Forum
Discuss My Son, the Vampire on our Movie forum!