My Son, the Vampire
(1952)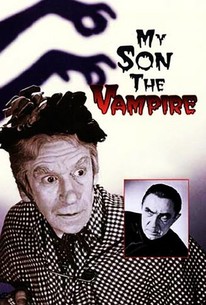 AUDIENCE SCORE
Critic Consensus: No consensus yet.
My Son, the Vampire Photos
Movie Info
A mad international criminal, Von Housen (Bela Lugosi) -- who fancies himself a vampire (and sleeps in a coffin), and has plans to take over the world -- arrives in England. Over the next six weeks a dozen young women disappear without a trace, and Scotland Yard is certain that Von Housen, whatever else he may be planning, is behind these crimes. The scientist proceeds to put his plan to rule the world into operation, having a very dangerous robot shipped to his secret laboratory -- but thanks to a comic mix-up in shipping labels, the robot is delivered instead to the nearly bankrupt shop owned by Mrs. Riley (Arthur Lucan), a conniving old Irish char woman. Von Housen retrieves the robot by remote control, but Mrs. Riley is brought along for the ride, and she proceeds to disrupt his plans for world domination.
Audience Reviews for My Son, the Vampire
The plot of this film is just too crazy. I could never figure out 'My Son, The Vampire', because the Robot that Bela Lugosi creates in this film isn't a robot. He just basically does all his dirty work. I could never understand Mother Riley (the man who's a cross dresser), who annoyed the heck out of me in this film. He/she needs some Xanax to calm he/she down. This movie is more of a horror/Sci Fi/Comedy movie, so if you think it's scary, it's not.
Jesse Richardson
Apparently famous at the time, this was part of a series of "Mother Riley" films, starring a cross-dresser as a shop owner. Bela Lugosi (well into his heroin addiction at the time) plays a wanna-be vampire (who is actually a scientist descended from a notorious vampire of legend). Lugosi was essentially doing a parody of his most famous screen character, much as he did in East End Kids and Abbott and Costello films. The scientist intends to build an army of robots to take over the world, but there is a mixup in delivery and the first robot goes to Mother Riley. Limited horror elements (since the vampire is fake), this could be categorized as a horror sci-fi comedy (the Mother Riley character actually detracts from the humor as singing trannies just arent my thing). Best part is when the landlord calls Mother Riley a faggot.
D M
The plot of this movie is too silly, I mean what does a vampire want with a robot? And what does the title mean? who's son is a vampire? This is just another excuse to get Lugosi to play a vampire again, which is cool, but he needs a better story.
My Son, the Vampire Quotes
There are no approved quotes yet for this movie.
Discussion Forum
Discuss My Son, the Vampire on our Movie forum!