My Tale is Hot
(1964)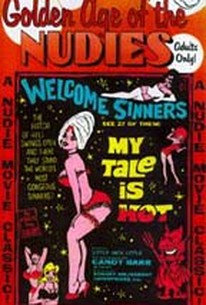 AUDIENCE SCORE
Critic Consensus: No consensus yet.
Movie Info
The devil is eager to lead a happy husband into temptation in this "nudie cutie" comedy. Business has been slow in Hell, and Lucifer U. Devil (Max Gardens, aka Manny Goodtimes) is being nagged by his wife about not luring enough folks into the Lake of Fire. Lucifer reads a magazine article about Ben Her-Ova (Little Jack Little), who has been hailed as the most faithful husband on Earth, and he makes it a point of pride to get Ben to stray from his wife and become eligible for entry into the land of Fire and Brimstone. However, on their first meeting Lucifer discovers Ben is more interested in watching television than in ogling beautiful naked women, and while Lucifer doesn't give up easily, his best efforts at tempting Ben prove largely fruitless. However, in time Lucifer learns there's a good reason why Ben can easily adhere to his personal "look but don't touch" policy. My Tale Is Hot features a brief appearance by Candy Barr, the famous stripper who appeared in the notorious stag reel Smart Alec.
Rating:
NR
Directed By:
Written By:
Cast
Critic Reviews for My Tale is Hot
There are no critic reviews yet for My Tale is Hot. Keep checking Rotten Tomatoes for updates!
Audience Reviews for My Tale is Hot
I wasn't really sure what to expect from this outing, because you never know what you are going to get when you watch one of these skin-flicks from the 60's, as the quality of them tends to run all over the place. But "My Tale Is Hot" is, if not a solid effort, at least stays on the right side of entertaining. There's really not much to this film, as it's basically a string of burlesque-type shots of fairly attractive babes, which has a bookended plot about a super-faithful husband (played by Jack Little, under the name "Little Jack Little") being tempted by the devil (played by Max Gardens, under the name "Manny Goodtimes") to stray. That's about it. Deeply involving this is not, but it is a good bit of fun and never really takes itself very seriously. As noted, the women are remarkably pretty attractive for the most part and have little problem peeling for the camera, while Little and Gardens provide somewhat humorous double entendre commentary during it. There's even a clever "little twist" (no pun intended) in the end, when the devil learns just why he can't tempt this most faithful husband to cheat. The dialogue is totally cornball throughout, with puns-a-plenty, some of it funny and some of it cringe-worthy. Really, though, the film is pretty much centered on the buxom figures of the ladies, which is only to be expected. There is a nice go-go dancing scene about midway through, featuring the talents of Ms. Candy Barr which is very nice. At just under an hour long, the film doesn't tend to overstay it's welcome, even if a couple of the burlesque scenes do seem to. In the end, it's just a fun and campy nudie-cutie romp, which is pretty indicative of this brand of film. It is certainly far from the worst effort this kind of film-making has created. If you are a fan of the genre, you might get a few chuckles of mileage out of this one.
James Meeley
My Tale is Hot Quotes
There are no approved quotes yet for this movie.
Discussion Forum
Discuss My Tale is Hot on our Movie forum!