My Way
(2012)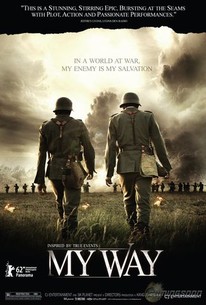 Movie Info
After emerging as bitter rivals and enemies as young marathon runners, Korean native Kim Jun-shik and Japanese aristocrat Tatsuo Hasegawa both find themselves in the Japanese army, fighting the Chinese and Soviets in a bloody battle. Jun-shik is there under duress, while Tatsuo is a powerful colonel. After both are taken prisoner by the Soviets, their mutual hatred and mistrust boils over into a violence that is only stopped by the continuing horror of the war. Forced to fight for the Soviets, the two eventually rely on each other for survival, making it to Germany, where they are in turn separated and forced to fight for the Nazis. They meet again at Normandy Beach, both unlikely survivors, bonded together by history as they struggle to survive one more terrible battle as the Allies arrive on D-Day.
Critic Reviews for My Way
Audience Reviews for My Way
10/15/14 Netflix WOW!! This was like watching the opening of Saving Private Ryan for almost two straight hours. If you don't feel the horror and stupidity of war watching this you never will. It is a wonderful story but filled with the wonder that anyone could have survived their experiences. A testament to the human spirit, the will to survive, courage and friendship and respect. Hard to watch but still really liked this story.
Nick Ueber
Good movie and worth a watch. Amazing that fighting for so many different countries really happened in WWII for some Koreans
Lance Wilson
½
When a movie opens with a line stating D-day was in 1945 you know to leave the history book at the door. I went into this film really wanting to hate it. I thought it would be sensationalist garbage, but what I found was a decent story thrown into an adventure film set during World War 2. The movie is broken into 3 parts. An Asian segment, a Soviet segment, and finally a German segment. Each representing the uniform our unlikely duo finds themselves in through their bizarre journey. I found some of the battle scenes to be choreographed very interestingly. While they do borrow heavily from other war films (movie buffs will pick up on this when watching), they manage to add some new creative ideas as well. The downside is the unfortunate use of low budget CGI which somehow makes the battles feel a bit video game-ish and underwhelming to those in films that use practical effects like Saving Private Ryan (comparing the Normandy landings in both films displays this greatly). The film is gory and earns its R rating, but the violence and gore is more along the lines of something you would see in an Arnold Schwarzenegger film like Predator or Commando and just doesn't get under your skin the way Saving Private Ryan does. The type of movie goer who would really like this movie, is the type who would say the Empire Strikes Back is the lesser of the Star Wars trilogy because it has the least amount of lasers. I would have liked to have seen more character development at the cost of maybe one or two of the battles. Most of the supporting cast is killed as soon as they are introduced. There is also a huge issue with an over use of shaky cam that makes Saving Private Ryan look like it was shot on a concrete Tripod. The movie is closer in genre to a movie like 300, then it is Saving Private Ryan or Enemy at the Gates. To rate this fresh or not is a difficult choice. Like 300, it can be very entertaining, but as a historical war movie - it fails. Because the film bills itself as the later, I have to give a lower rating. I would recommend picking it up on Netflix if you enjoy popcorn action movies; or just dig up an old copy of Call of Duty.
MovieMan .
My Way Quotes
There are no approved quotes yet for this movie.
Discussion Forum
Discuss My Way on our Movie forum!