My Year Without Sex
(2009)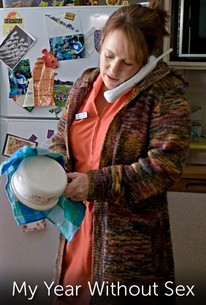 My Year Without Sex Videos
My Year Without Sex Photos
Movie Info
A loving couple finds their lives turned upside down when one of them is diagnosed with a medical condition that will prevent them from having sex for an entire year. Coping with spirited children, a tight family budget, and job insecurity are common challenges for your typical parent; for Natalie and Ross, things are about to get a little more complicated. When Natalie's doctors advise her to abstain from sex for 12 long months, the temptations of consumer society seem to intensify tenfold. Now, in a world where sex sells and everyone is desperate to be desired, this passionate young couple discovers just how intense things can get when the most natural form of stress relief is no longer an option.
Critic Reviews for My Year Without Sex
Audience Reviews for My Year Without Sex
Still in the Game At first, I expected this to be a First World Problem movie. After all, if the worst thing in your life is that you aren't having sex, you're still better off than quite a lot of other people. The box to this movie does not exactly go out of its way to tell you that the problems these people have go a bit beyond that. Unfortunately, this also means that the box is a bit misleading as to what kind of movie it is. This isn't a wacky comedy, though it's funny in places. Funnier than many people realize, it seems. The way this family approaches their life is in fact refreshing. The parents can have a fight without it being the predecessor to a discussion about divorce. They have a fight because that is something that people occasionally do. The kids are in exactly the world you expect them to be part of, one where they are testing being an adult but still have the feelings of children. In fact, this is where no little of the humour comes from. Natalie (Sacha Horler) and Ross (Matt Day) are a typical middle class Australian couple. Their son, Louis (Jonathan Sagat) cares more about football than anything else. Their daughter, Ruby (Portia Bradley), is a young girl in a world that wants her to grow up right away. Natalie is at the doctor's, getting a Pap smear, and she knocks her purse over. She goes to pick up the things that have spilled out, and she collapses. An aneurysm has burst in her head. She and Ross cannot have sex, because it could cause another burst, and she's lucky to have survived the first one. So the movie shows us the next year in Natalie and Ross's life, including their vacation, Natalie's friendship with a female priest (Maud Davey as Margaret), and their comparison with Greg (Fred Whitlock) and Winona (Katie Wall). Not everything goes well for them over the course of that year, but we do at least learn that a marriage is about more than just sex. Though they never stop wanting to have it. I read a question elsewhere as to why Louis is gay, and the answer to that is that I don't think he is. I think he isn't interested in much of anything that isn't a bunch of guys kicking a ball around--and he's even okay with girls doing it, if they're any good. But when a molester (Greg Saunders) asks him if he prefers boys to girls, Louis is genuinely confused and wants to know for what. The movie bores him because it is all about boys trying to kiss girls, but he wouldn't be more interested if it were about boys trying to kiss boys or girls trying to kiss girls. It's the kissing part that doesn't interest him. He says that he'd heard the movie was supposed to be funny, but it's funny in a way that is simply outside his interest one way or another. He tells the molester that he has decided to wait until puberty to decide whether he prefers boys or girls for, you know, sex, but for now, he just isn't interested. Time enough for that later. On the other hand, there is Ruby, who doesn't even understand the question as much as her big brother does. She's still interested in the Tooth Fairy--who takes about three weeks to notice that she lost a tooth, but Ruby keeps waiting. Tooth Fairies are slow sometimes, but they always get around to you sooner or later, right? She doesn't really understand money. She doesn't really understand being a grown-up. She's got a pretty good handle on being an eight-year-old, but she isn't possessed of any extraordinary wisdom or anything, the way so many movie kids are. She's just an ordinary kid with ordinary concerns, like trying to figure out what she's going to do for her eighth birthday party. The idea that her parents can't afford what her friends' parents can never occurs to her, because she isn't a hundred percent clear on how money works in the first place. Still, she's an attractive child, and Portia Bradley gets what may well be the best reaction shot of the movie when she is given advice unwarranted for any eight-year-old. There isn't a lot of plot to this, really. It's just one year in the life of a family. And sometimes, they fight. Louis isn't emotionally connected in the way that his mother would like, but that's a product of his age. Ross gets a little too obsessive with the boys' team, but that's a thing that happens to a lot of parents. Natalie ends up taking a dreary call center job to help make ends meet after their dryer blows up and their dog is savaged by a stray. And, of course, when the priest sings karaoke, what can she sing but "I Believe in Miracles"? The movie grew out of filmmaker Sarah Watt's desire to have a film with no sex scenes. While she was writing it, she realized how much of modern life revolves around sex, and so it is a thing that gets talked about a lot. But part of the year without sex is learning about everything else that's out there, from religion to games to friendship. After all, you can survive without sex, even within a marriage.
Edith Nelson
½
Australian comedy with everyday story which brings all the characters close to the audience... life questions, big and small, can be overwhelming for most of us... and the movie gives the answers of this tipical suburban family on screen to be seen, laught and maybe remembered in the future. Cute movie to watch!
Good portrayal of a year in the life of a typical suburban Australian family as they deal with the aftermath of the mother's aneurysm. The husband does seem a little too young for her and doesn't quite convince, and there's something not quite right here, but on the whole, pretty good.
Nicki Marie
Super Reviewer
My Year Without Sex Quotes
There are no approved quotes yet for this movie.
Discussion Forum
Discuss My Year Without Sex on our Movie forum!