Mysterians
(1959)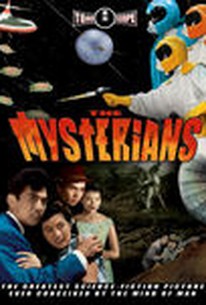 AUDIENCE SCORE
Critic Consensus: No consensus yet.
Mysterians Photos
Movie Info
Most famous for his original Godzilla film in 1956, director Inoshiro Honda is primarily a screenwriter and quite seldom a director. One of his recurrent themes -- the deadly or mutant effects of atomic radiation (as in Godzilla), is also featured in this otherwise routine sci-fi film. The title characters are from a planet that has been destroyed by nuclear bombs. After the Mysterians land on Earth they ask the Japanese for some land to settle and a few nubile women to propagate their race. Scientists are dubious about the intentions of these aliens and so an offensive is launched against them, an offensive that looks like it has no hope of success. Special effects here are excellent considering that computer-generated effects were far in the future. The large robot may be the one exception. ~ Eleanor Mannikka, Rovi
Rating:
NR
Genre:
, , ,
Directed By:
Written By:
In Theaters:
On DVD:
Runtime:
Studio:
MGM
Cast
Critic Reviews for Mysterians
Audience Reviews for Mysterians
Other than its bright, Skittles-colored alien spacesuits and neat retro spaceships, "The Mysterians" is really boring. Aliens flex their advanced technological muscles in an attempt to secure two miles of land and the hand of any Earth women they choose in marriage. An underwhelming and overreaching set of demands to say the least, especially given their most advanced weapon appears to be the robot Mogera who is defeated with minor effort by the military of the puny humans. I think "The Mysterians" wins the award for the movie that put me to sleep the most. I honestly tried getting through this on at least four different occasions before a highly caffeinated effort made try-number five a success. There is really no 'so-bad-it's-good' urging that I can give here. This is a real yawner.
Whit whitsbrain
A tad boring, the aliens are alright and Mogera is pretty nice but doesn't appear in the film enough. Not the most interesting story and the climax battle comes right away, but it has some good scenes and is a worthy Japanese sci-fi film.
Wes Shad
I saw a few Kaiju-Eiga movies on TV as kid, but never got to see a lot of them (my dad didn't care much for them, and he always changed the channel.) By the time I got into high school, my fascination was still present, and then I started borrowing some old Godzilla VHS tapes from my library. Since then I've seen every Godzilla movie from the original series at least once (I own most of them now,) and I have to say that I thoroughly love most of them. For a while, I went on hiatus from watching other Japanese monster movies, but lately I've seen quite a few, and my interest is surging once again. I finally got around to seeing this one, and it's on par with Godzilla, Rodan, Baragon, Gigan, and the gang for sure. It's a really fresh take on the classic UFO-laden science fiction that was hitting American drive-in theaters during the 50's. When random forest fires and landslides begin to occur, things start looking a bit fishy. Local scientists begin pondering what the root of these incidents are, until the giant drill-nosed robot, Moguera shows up and begins wreaking havoc. The robot is soon shown to be property of the Mysterians, natives of the doomed Mysteriod. When important officials come fact to face with these strangers, an ultimatum comes forward: the Mysterians must have a decent foothold on Earth, and they are intent on marrying human females, who will aid them in re-populating their race. This part is pretty damn funny--at least the way they put it, but it holds up fine in my eyes. Like just about every Toho film that was made between the 50's and 70's, I am ready to indulge in something fun and vibrant. I don't care if this movie is "tacky" at all. It appeals to the 6 year old in me, and for me I have a general philosophy--the tackier the movie, the better. I guess movie purists will probably down-grade this type of film, but it does have those period social messages in it (ie. H-Bombs are repeatedly referenced during the movie.) I guess if you're hard-nosed, you may like that, but I personally don't care about that. Movies like this are a lot of fun, and they're great at keeping you in touch with childhood (for me, since I'm a geek.) The look of the Mysterians predates Ultraman and the Power Rangers, and if you look at the special effects, they're actually a step above most Kaiju-Eiga themed movies (the FX budget shouln't even matter.) With Ishir? Honda directing you're going to get a great kaiju movie no matter what. My only qualm with the version I saw is due to the fact that my dvd only has the 2005 re-dub..apparently I can only hear the older dub if I get the video-tape. But, to me, the dubbed dialogue doesn't matter too much..it's the action that's gonna keep my eyes glued. I highly recommend this movie to all fans of Kaiju and older sci-fi!
Frederick Boone
Discussion Forum
Discuss Mysterians on our Movie forum!
News & Features