Mysteries of Lisbon
(2011)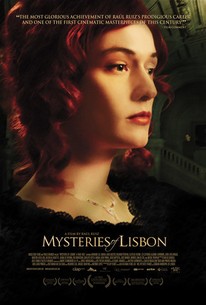 Mysteries of Lisbon Videos
Mysteries of Lisbon Photos
Movie Info
Raul Ruiz's masterful adaptation of the eponymous nineteenth-century Portuguese novel (by Camilo Castelo Branco) evokes the complex intertwined narratives of Victor Hugo and Charles Dickens. The core story centers on Joao, the bastard child of an ill-fated romance between two members of the aristocracy who are forbidden to marry, and his quest to discover the truth of his parentage. But this is just the start of an engrossing tale that follows a multitude of characters whose fates conjoin, separate and then rejoin again over three decades in Portugal, Spain, France and Italy. --(C) Music Box
Rating:
NR
Genre:
, , ,
Directed By:
Written By:
In Theaters:
On DVD:
Box Office:
$110,507.00
Runtime:
Studio:
News & Interviews for Mysteries of Lisbon
Critic Reviews for Mysteries of Lisbon
Audience Reviews for Mysteries of Lisbon
½
A very long melodrama based on a classic 19th Century Portuguese novel. Much of the acting is quite good if a bit stiff and some of the dialog is baroque and unrealistic. It has almost soap opera like twists and complications but the story is slow -- very slow, sometimes boringly slow. A film to be enjoyed for its cinematography and period flourishes perhaps but not a film many will find worth sitting through.
David Duncan
½
In "Mysteries of Lisbon," Joao(Joao Luis Arrias) is already suffering through school enough without the local bullies picking up on his being an orphan. After falling suddenly ill, he sees an unfamiliar figure through the feverish haze. When he recovers, Father Dinis(Adriano Luz) tells him that it was Angela(Maria Joao Bastos), a countess, who is also Joao's mother. However, all is not happiness for all concerned as she is kept prisoner by her husband who has switched her role with the maid. Still, business and wars call him away for business often which gives them time to get to know each other. But one time they miscalculate, forcing her to flee and Father Dinis also to give her sanctuary, along with a trusted servant. "Mysteries of Lisbon" is a handsomely produced film(reportedly culled from an even longer miniseries) that moves along at its own languid pace, helping to recreate a past world of much tighter social norms that are violated at one's own risk. Apparently, the Catholic Church was the witness protection program of that time period with many of the characters having a complicated back story and more than one name which can be challenging to keep track of for casual viewers.(In any case, I'm glad I did not try to see this in a theatre.) So subtle is the storytelling that I did not realize this movie took place in the 1840's until it got around to bringing up the French Revolution, as I know so very little about Portugese history.
½
Its an impressive film, it sustains itself thematically and holds your interest for its 4 1/2 hour run time while really playing around with the audience's perception of whats real or imagined. It weaves in and out of stories and stories within those stories so seamlessly and it covers just about every standard theme imaginable. 'Mysteries of Lisbon' is the very definition of the word whimsical. ' Like 'Barry Lyndon' or 'Fanny and Alexander' its bound to become a standard for considerably lengthy costume dramas
Alec Barniskis
Super Reviewer
Mysteries of Lisbon Quotes
| | |
| --- | --- |
| Pedro da Silva - Adult: | one soon discovers that it's not difficult to disappear from the eyes of others but that our own eyes follow us wherever we go |
| Pedro da Silva - Adult: | One soon discovers that it's not difficult to disappear from the eyes of others but that our own eyes follow us wherever we go. |