Mystery!
(1997)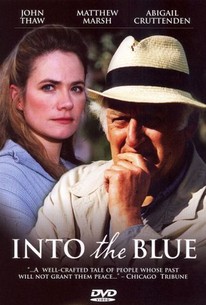 AUDIENCE SCORE
Critic Consensus: No consensus yet.
Movie Info
More than one case of mistaken identity is leading an expatriate Briton into hot water in Greece in this tale of suspense. Harry Barnett (John Thaw) was once a successful British businessman, but after his luck and his business acumen went south, Harry suddenly found himself single, and these days he works as a laborer for his old friend Alan Dysart (Matthew Marsh), a former government figure who fled to the Greek island of Rhodes to get away from a scandal. One night, Harry enjoys a brief fling with Heather Mallender, an attractive woman from out of town; the next morning, Harry discovers that Heather is nowhere to be found, and has seemingly disappeared. When Dysart's men seem downright casual about Heather's death, it draws Harry's suspicion; he begins digging, and learns Heather's death parroted the killing of one of Dysart's former employees -- who was also Heather's sister. 1997's Into the Blue was originally produced for British television, and first aired in the United States as part of the anthology series Masterpiece Theatre.
Critic Reviews for Mystery!
There are no critic reviews yet for Mystery!. Keep checking Rotten Tomatoes for updates!
Audience Reviews for Mystery!
[color=black]After watching Into the Blue, I find it a little hard to find anything truly good about it. Then again, I can't seem to find anything really bad about it either. The movie just falls into that category where it doesn't entirely escape your mind after you see it, but nothing sticks out. It's all stuff we've seen before, the question is how well is it done, and will people like it. My guess is, if people like it, then it doesn't matter how well its done, and if its done well, people will probably like it.[/color] [color=#000000]The movie begins with a plane crash. What's in the plane when it crashes? It doesn't matter because once you see Jessica Alba in a bathing suit you won't care. You eventually find out though, as Alba's character Sam, and her boyfriend Jared (Paul Walker) are scuba diving through the ocean, they find the wrecked plane and it's filled with cocaine. It turns out, the coke belongs to a powerful drug dealer and he wants it back.[/color] [color=#000000]The rest of the movie has Jared, Sam, and their friends Bryce (Scott Cann) and Amanda (Ashley Scott) being chased down on boats, in the sea, and on the streets of the Bahamas. This is all done with considerable energy and flash, but the action scenes never seem to generate all that much excitement. This is fine, because the next scene with Alba in a bikini compensates for the lack of excitement in that action scene. There's also a lack of character depth or dimension. [/color] [color=#000000]For instance, when one of the heroes dies it doesn't feel like the character's gone. Now this is pretty normal with a movie in this genre, but here it feels like the person was never even there to begin with. But there's Alba's tan body to make up for that discrepency. The movie's also a little too long and has a few subplots it could have done away with. But wait, there's Alba again. [/color] [color=#000000]Then there's the technical side of things, which more than overshadows the storytelling. John Stockwell polishes things to a fine sheen. The photography is exquisite, both underwater and above. The Bahamas are captured terrifically by Shane Halbut and are beautiful to look at, along with Alba. Even when Into the Blue isn't generating much interest in the plot, it's always great to look at.[/color] [color=#000000]For escapist entertainment, I can't say that Into the Blue won't be worthwhile. With its sexy cast, beautiful locales, and well staged action scenes, the movie's likely to keep you watching. [/color]
Dillon Richards
Mystery! Quotes
There are no approved quotes yet for this movie.
Discussion Forum
Discuss Mystery! on our Movie forum!