Mystery Road
(2013)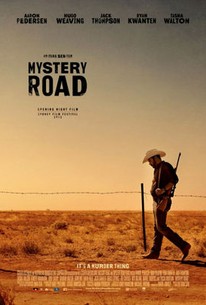 Movie Info
An Indigenous detective investigates the murder of a teenage girl in a small town in the Outback. Ivan Sen (Toomelah) crafts a mesmerising thriller with a stellar Australian cast including Aaron Pedersen, Hugo Weaving, Ryan Kwanten and Jack Thompson.
Rating:
NR
Genre:
Directed By:
Written By:
On DVD:
Runtime:
Studio:
News & Interviews for Mystery Road
Critic Reviews for Mystery Road
Audience Reviews for Mystery Road
Impressive nuanced performances. A pitch-perfect and lovely final scene. One of the lesser known gems of 2014.
Mike Movie
A pretty great Australian thriller that has some interesting thoughts about race and social justice. Director Ivan Sen sets a great tone with his fantastic cinematography and score, and this helped Mystery Road to capture my attention early on. With a strong script and great performances, Mystery Road brings you into the lives of these characters so that you actually care about what's going on. Aaron Pedersen elevates this film from being a straight procedural flick by creating a character who is mysterious and sympathetic. This is a man who really cares about his community, but he is torn between his ethnic ties to the community and his desire to see justice done. At the same time he is torn between his duty to his fellow police officers and the hypocrisy he feels by supporting a system that oppresses his people for the color of their skin. It's a complicated and complex performance, and it's the heart of the film. Hugo Weaving is also pretty incredible as the possible villain of the film, who is a police officer willing to do anything to get the job done. He might be crooked, he might be too extreme, but Weaving plays it with just the right amount of charm to keep you invested long enough to find out. This is indicative of the whole film. You're given just enough information to keep you hanging on, but not too much to spell everything out, making you lose interest. Mystery Road isn't a groundbreaking procedural thriller, but it's a really good one, with multiple plot lines. The mystery of the case isn't what will keep you invested if you choose to watch, it's the characters, but that's the strength of the film. You really care about these people, and what happens to them.
Nathan Martin
Between a 7/10 and 8/10, Sen (who also shoots, scores and edits) goes walkabout through the minefield of contemporary Australian culture, offering an evocative snapshot of an unravelling crime scene - social, racial and economic.
Lee Mayo
Mystery Road Quotes
There are no approved quotes yet for this movie.