Nadine
(1987)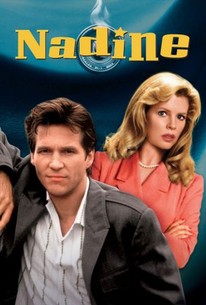 Movie Info
Set in Austin Texas in 1954, this comedy chronicles the exploits of a pregnant beauty operator who rushes to her almost ex-husband after she accidentally witnesses a murder. Though neither are endowed with an abundance of intelligence, the two manage to solve the case and protect her life before it is too late.
Critic Reviews for Nadine
Audience Reviews for Nadine
½
Having lived in Austin in the 80s perhaps I like this a little more than most, though I don't like it all that much. It is clearly very proud with its authenticity, and opens with a loving camera pan over the set design of the 1954 Austinite bedroom. Bridges makes a phone call from Charlie Goodnight's, the man who stared at me from the book covers on my high school textbooks for four years. Writer/director Robert Benton clearly knows the town, and his use of streets and other geography is impeccable. Too bad the same care was not taken with the hairstyles; the men were far too hairy for 1950s Texas. As for the rest of the movie, it was so-so. I hadn't seen the movie in 25 years, and it will probably be at least that long until I see it again.
Roy Smith
½
This was one of the dumbest and one of the most boring films I have ever seen! It is pretty much a waste of time, film and money. I know I am young and dumb but what was a map of a new highway going to make Vernon money? Vernon was stupid, he was obsessed with that Bluebonnet bar and he was so much in debt it was pretty pointless to waste his money on that bar, and if he was so dang poor why was he always drinking beer? Nadine was a stupid character because all she did was scream the whole time. Floyd was dumb I am not surprised he got killed.
Zoë Peck
Jeff Bridges and Kim Basenger with real heavy accents ya'll, get inta all kinda trouble. It looks very dated, but it's just about watchable, because of the great actors.
Nadine Quotes
There are no approved quotes yet for this movie.
Discussion Forum
Discuss Nadine on our Movie forum!