Nae Kkangpae Gateun Aein (My Dear Desperado)
(2012)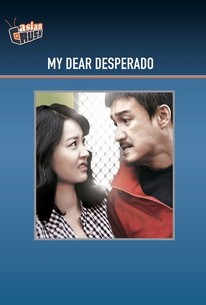 AUDIENCE SCORE
Critic Consensus: No consensus yet.
Critic Reviews for Nae Kkangpae Gateun Aein (My Dear Desperado)
There are no critic reviews yet for Nae Kkangpae Gateun Aein (My Dear Desperado). Keep checking Rotten Tomatoes for updates!
Audience Reviews for Nae Kkangpae Gateun Aein (My Dear Desperado)
This film, essentially, tells the story of a budding romance between a gangster and a woman who's just moved to the apartment he lives in after the company she worked for goes bankrupt. The film is, mostly, about the woman's, whose name I forget, search for a job while a relationship builds between her and the gangster, whose name also escapes me. The gangster also has his own little subplot, where he's trying to avoid war with an ex-cop and whatnot. But, honestly, the film just isn't really that interesting in the slightest. The whole idea seems to be that you get to see these two very different people from completely different backgrounds, but I just don't find that the character themselves are really that interesting enough to justify this film's existence. I think there's solid chemistry between the leads to, at the very least, some decent moments between the two. There's some sweet moments here and there, but I just found everything involving the individual stuff between the characters, like the struggle to find a job and the gangster trying to avoid all-out war, to just lack depth. It was just there to give the leads something to do outside of their 'romance'. It's just not interesting or all that well-developed. Like a lot of South Korean movies, there's the sentimental third act. I wouldn't call it melodramatic, thankfully, but it is definitely sentimental. The problem with this is the fact that the it never felt like the movie earned it. There's just not enough done between these two characters to make you think that there was anything resembling a special connection between these two characters, so it just feels like it's completely forced on you. Though, I will admit, I am kinda glad that it isn't as manipulative as these things tend to be. I mean it does try to be manipulative, a bit, but it's never overbearing or a detriment to the film. The rest of the film is a detriment of the film, ironically enough. I've always said that South Korean is the land of a million revenge thrillers, but you can also say the same thing for melodramatic rom-coms. While this one doesn't really exploit its situations as much as others, there's still not much to this film that I found worth watching. The performances are solid, I guess, but the characterization is lacking and the story is dull and uninteresting. So, as you might imagine, this isn't a movie that I would recommend. It's fine, at best, but nothing special and not worth watching.
Jesse Ortega
Super Reviewer
Nae Kkangpae Gateun Aein (My Dear Desperado) Quotes
There are no approved quotes yet for this movie.
Discussion Forum
Discuss Nae Kkangpae Gateun Aein (My Dear Desperado) on our Movie forum!