Naked
(2017)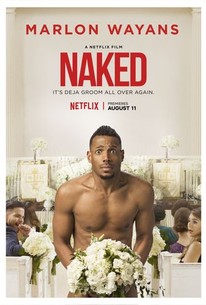 Movie Info
Naked, a Netflix original film, is directed by Mike Tiddes (A Haunted House 1 and 2, Fifty Shades of Black) and stars Marlon Wayans (White Chicks, A Haunted House 1 and 2, Fifty Shades of Black). Rob Anderson (Marlon Wayans) is all set to marry the girl of his dreams, but can't quite get to the altar. Every time he comes close, he finds himself waking up naked in his hotel elevator, forced to relive the beginning of his wedding day over and over again.
Audience Reviews for Naked
½
Netflix hasn't had the greatest track record for releasing original films. I'm just being honest here, but I truly believe they need to choose better projects in terms of film. Naked is one of their latest outings, and while it's not a train wreck by any means, it's not all that good either. When it comes to comedies (or any genre of film for that matter) it really needs to be worth watching from start to finish. The issues with this movie is the fact that there are some standout moments, but just as many moments that fall flat. Here is why Naked may actually be worth your time for a few laughs, but you won't be wanting to revisit it afterwards. From Groundhog Day to recent releases like Before I Fall, the idea of having someone relive events has become somewhat of a trend lately. While this idea seems to be overdone, just look at home may times other premises have been done even more. Personally, this aspect definitely didn't bother me too much, so I was just hoping for a few laughs. Following Rob as he is reliving the morning of hid wedding over and over again, he utilizes the time to win over the approval of his soon-to-be father-in-law and learns to be a better man than he was before the marriage. On its surface, this plot sounds generic, and while it most certainly is, it has its moments. The jokes throughout this movie are very hit-or-miss, but the jokes that do hit work very well. I found myself chuckling pretty hard at some of the scenarios, so that's enough props to give this film a mild recommendation. Aside from that aspect, a lot of the humour also falls flat, making for a few awkward sequences as well. Naked is a very inconsistent film with dumb plot points and an incredibly predictable conclusion, which sort of takes away from the comedy that does work, but I'm not going to be too picky about a film like this. This is a comedy that sets out to deliver a few solid jokes, having nothing deeper or larger to gawk at. For these reasons and more, it's fine for what it is. Movies of this nature can earn a pass for feeling repetitive, as long as the payoff is worth the wait, but Naked heavily suffers from this element. Right down to reusing some of the same footage over and over again in order to show that the day is repeating, I found certain tactics and editing choices to be quite lazily done throughout the majority of this movie. Still, the continuity is really what matters in the end, and I didn't find myself nitpicking that aspect very much. Each time I begin to speak about a poor element that this film had to offer, I can also come up with a positive, so I'm very torn overall. In the end, I can recommend this film to anyone who is out for a few cheap gags, but I would just as quickly tell them to avoid it. Naked is the type of film that people will have no recollection of it ever being made, but it'll be a nice watch for a few laughs on a rainy day. It has a few great gags, some pretty terrible ones, a plot that feels forced for its inevitable conclusion, even though it works, and the film as a whole feels like it was made in order to employ these very talented actors/actresses. I'm a big fan of both Marlon Wayans and Regina Hall when they're at their best, and while they do deliver some fine performances here, they're just not given enough to work with. Overall, Naked is the type of movie that works just as much as it doesn't. It's hard to warrant a recommendation, but you won't hate yourself for watching it.
Been almost four days since my last review. Not that anybody cares, but I'll explain it anyway. I was without electricity from 7 pm Saturday (prior to when I usually watch movies) until 9 pm Sunday. I didn't watch a movie the day it came back because I, literally, had not slept a wink and I was literally about to die. Well, not really, but still. And on Monday, I started watching The Out of Towners (the remake with Goldie Hawn and Steve Martin) and I haven't finished watching it.yet. So here we are, the first movie I review in days and this is what we're left with. I'll be honest, watching the trailers to this film, I thought it looked absolutely awful. I've never been the biggest Marlon Wayans fan. I just think a lot of his films rely on lazily, and poorly, constructed skits barely held together by some form of gimmick. White Chicks had the Wayans dress up as, you guessed it, white chicks. Little Man had Marlon in the body of a baby and acting like one. This one has him repeating the same hour over and over again after he wakes up naked in this elevator on the day of his wedding. This is a concept that we've seen plenty of during the years since Groundhog's Day's release. Edge of Tomorrow, Source Code, Run Lola Run and the film that this is a remake of, Naken (a Swedish comedy). I didn't know that this was a remake of a film at the time I watched this yesterday. But, doing my research, apparently the original movie was also negatively received when it came out. And I guess that the whole idea of a man being stuck on a time loop after he wakes up naked in an elevator is a, visually, interesting concept. What I mean by that is that there's this belief that naked men are funny. And what better to distract from the fact that your script is lame being relying on male nudity, right? Having said all of that, with my thoughts on the trailers out of the way, this wasn't nearly as bad a movie as I would have reasonably expected. It's never what I would call a good movie and it's not even really that funny, but I didn't hate this in the slightest. The concept is certainly very low-brow and it's not like its attempts at humor are that much better, but I didn't mind watching this for however long it did last. Honestly, watching some of the scenes here, I think that Marlon Wayans is a better comedic actor than he generally likes to show in his films since, again, his style is a little more over-the-top and relies a lot of gimmicks, shtick and slapstick. This movie definitely has a great percentage of that, but there's also scenes where Marlon actually shows something. I'm not saying it's much or that it even lasts that long to begin with, but I feel that he would be so much better if he toned things down and relied on his comedic timing. I'm not saying he would be great or anything of the sort, but he would be perceived a lot better than he currently is. The movie, obviously, doesn't have a massive budget and you can just feel that from the look and execution of some of the scenes. It just feels amateurish in parts. I think one of the things this film does well is keep Rob's goals focused on getting to his wedding and marrying the woman of his dreams. While there's distractions and 'small' subplots, for the most part, the movie focuses on that. And, because of that, there's a strong sense that, even if they spend very little time together in film, that Rob really does love Megan. I would not have guessed that they would've gotten that one right, but they managed to pull it off. The pacing of the flick is fine, but it's not anything to write home about. I feel parts of it felt longer than the probably should have, but it's not a super long movie anyway. I will admit that I did chuckle at some scenes but, again, this isn't really that funny of a movie. You could say that it failed at what it set out to do, and I wouldn't disagree with that, but I can say that I was never bored by this in the slightest. Two stars is still very much a negative rating and I'm not recommending this at all, particularly when Groundhog Day still exists, but I wasn't bothered by this at all. That's not a seal of approval, for sure, but it could have been so much worse. Don't really have much else to say about this, it's got a low-brow concept and its execution is more miss that hit, but it's also a better movie than I expected. It's not better by much, but it's still better. I wouldn't tell you to watch this, but if you did decide to do it, it's a movie that will take up 90 minutes of your time, but it's not something you'll remember by the same time the day after that. It's ok, but completely inconsequential and forgettable. That's the best way to sum this up.
Jesse Ortega
Super Reviewer
Naked Quotes
There are no approved quotes yet for this movie.