Naked Youth (Seishun zankoku monogatari) (A Story of the Cruelties of Youth)
(1960)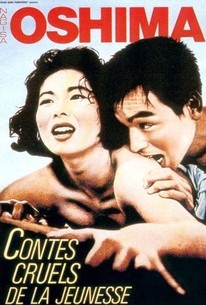 AUDIENCE SCORE
Critic Consensus: No consensus yet.
Naked Youth (Seishun zankoku monogatari) (A Story of the Cruelties of Youth) Photos
Movie Info
Nagisa Oshima's groundbreaking film opens with young, attractive Mako and her friend hitching a ride from an old man. After her friend leaves, the man tries to rape her, and she is saved only by the handsome Kiyoshi. Later, against the background of the tumultuous 1960 U.S./Japan Security Treaty demonstrations, Kiyoshi and Mako walk along a grungy seaside lumberyard while talking about sex. He attempts to kiss her, she slaps him, and he throws her in the water. She cries out that she can't swim. When she continues to refuse his advances, he steps on her fingers as she clings to a log. Kiyoshi then saves Mako from a trio of seedy pimps looking to impress her into working for them, but after rescuing her, he forces himself on her again. With this unlikely beginning, Kiyoshi and Mako form a passionate though doomed romance. Soon she stops going to school and moves into his flea-ridden dive of an apartment. Utterly disillusioned with all trappings of societal convention, the two get cash by blackmailing businessmen and by shaking down Kiyoshi's middle-aged sugarmama. Tension with this Bonnie and Clyde duo builds after Mako has an abortion in a run down clinic, performed by an alcoholic doctor. ~ Jonathan Crow, Rovi
Critic Reviews for Naked Youth (Seishun zankoku monogatari) (A Story of the Cruelties of Youth)
All Critics (3) | Fresh (3) | Rotten (0)
A cynical tale of wayward youth presented with a suitable degree of directorial maturity.
An anti-Ozu film that offers an embittered take on the moral disillusionment of youth in a changing postwar Japan.
Audience Reviews for Naked Youth (Seishun zankoku monogatari) (A Story of the Cruelties of Youth)
[font=Century Gothic]"Cruel Story of Youth" starts innocently enough with Mako(Miyuki Kuwano) trying to secure a ride home. However, things go badly when the driver, a middle-aged man, takes her instead to a hotel and attempts to molest her. Luckily, Kiyoshi(Yusuke Kawazu) comes to her rescue and even takes some of the attacker's money for his trouble. The next day with some of that ill-earned money, they rent a motorboat, followed by sex(which I'm assuming is consensual). They fall in love but have no money to support themselves. So they hatch a plan to extort money from other middle-aged men...[/font] [font=Century Gothic][/font] [font=Century Gothic]Written and directed by Nagisa Oshima, "Cruel Story of Youth" is a deeply cynical movie that denigrates the youth of Japan at the time the movie was made. By showing footage from a demonstration in South Korea and comparing it to a less impressive one in Tokyo, Oshima is meant to be showing how apathetic this generation is about the country they live in.(Mind my ignorance but what exactly were the issues of the time?) It is their parents' generation who beat themselves up for not changing anything for their offspring who are just happy to hang out and have sex.[/font]
This is kind of unique perspective, an early cinematic look at the lives of Japanese young people in 1960. Clearly this is a new era, less than a decade earlier we had Seven Samurai, now this "Rebel Without A Cause" cousin is made and really doesn't shy away from anything. I liked all the bright colors of the streets and the costumes, but I didn't really empathize with any of the characters, even in the end. The girl Makoto is just dumb. Kiyoshi is more dynamic, I liked him. But the entire movie Makoto gets assaulted and yet doesn't seem to mind. I guess I was more interested in the scenery and time period. The scene where Kiyoshi eats the apple in the abortion clinic is a weirdly biblical allusion--they give in to lust just to try to rebel against society. Some cool jazz music, though. Oddly (or not) American.
Naked Youth (Seishun zankoku monogatari) (A Story of the Cruelties of Youth) Quotes
There are no approved quotes yet for this movie.
Discussion Forum
Discuss Naked Youth (Seishun zankoku monogatari) (A Story of the Cruelties of Youth) on our Movie forum!