Namu, the Killer Whale
(1966)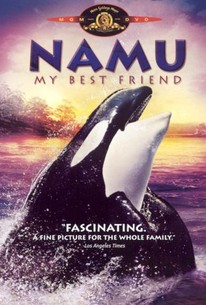 AUDIENCE SCORE
Critic Consensus: No consensus yet.
Movie Info
A marine biologist tends to a wounded "killer" whale, and learns that the animal's reputation as a vicious, merciless beast is quite unfounded. He then fights to protect the injured orca from angry local fishermen in this drama, which was based on a true story.
Critic Reviews for Namu, the Killer Whale
All Critics (3) | Fresh (3) | Rotten (0)

I found it to be a whale of a film, a superior children's film that adults might also enjoy.

Ozus' World Movie Reviews
Audience Reviews for Namu, the Killer Whale
I loved this film as a child & just thought about it yesterday. Many times better than "Free Willy" in my opinion. The theme song really reflects the way I feel about nature & brings a tear to my eye when I think about it.
Rebecca Powell
I wouldn't say this is the worst film I have ever seen, however in the world of "Orca movies" it ranks as both a "classic" and as well as one of the worse stories about an orca. This is a classic because by watching this film you are literally watching the first orca to ever have a movie made around him. The story of Namu is by far one of the most interesting things to happen in the past 50 years, more interesting than the story that the movie insists on showing. Namu wasn't just the first orca to have his own movie, he was also the first orca to successfully be in captivity for almost a year, he was the first orca to have a show where he preformed, but, most importantly, he was the first orca to swim with a human being. Before Namu came along orcas were feared much in the same way we fear sharks. Many people believed them to be vicious pests that competed with fisherman but would also kill anything that happened to fall into the water with them nearby. To say that this orca, and anything associated with him is incredibly important to the human-orca relationship would be an understatement. That doesn't excuse this terrible movie. This movie is rather pretentious. It tries to push this message about the beauty of nature and how evil man with his greed and inability for compassion and understanding will ruin innocent creatures such as Namu and his mate. Yes, this is VERY much an early green-peace movie that just insists on hitting you over the head with its environmental message. The song that opens up this movie pretty much sums it up with it's folksy tune and clunky lyrics: "Live and let live, let nature be your teacher. Respect the lives of your fellow creature. Live and let live, whatever you do. And always remember the killer whale, Namu." (Yes, I do have that memorized...it never leaves.) I really wish I could explain the story, but there really isn't much of one. The orca is captured by humans. But they don't know what to do with it. A girl comes along and "understands" the creature. And soon they set out to free the whale. The end. It doesn't help that this story was rushed...the filming was rushed...everything was rushed. Namu was the first orca...sorry, KILLER WHALE to ever swim with a human being. This is the modern equivalent someone jumping into a tank with a crocodile and all the croc does is let the guy ride on his back like some reptilian jet ski. Everyone was trying to make money off this amazing event. So, if you really love orcas and are fascinated by one of the most pivotal moments in human-orca history, I don't think I have to say you should see it. For everyone else, you might want to avoid this one.
Chelsea Lynn
Basically a kid's movie, so it is difficult to really trash it. As a children's film primarily, it's ok. As an adult film it is barely interesting. Terribly mistitled, this orca whale is NO threat to anybody. It isn't all that big either, maybe 12 feet long. The movie portrays this whale like a dolphin. The movie was later released as "Namu, My Best Friend" (more accurate). The soundtrack is pretty lame. The camerwork is very basic, tv like. The story is true, which is a plus. Marine biologist (Robert Lansing, veteran TV actor) studying the whale defends it from hostile native fishermen who believe their salmon industry is being threatened by the big fish. Those familiar with Robert Lansing and John Anderson will recoginize them from dozens of 60's television and movie appearances. Anderson almost always plays a villain, as he does again in this "whale" of a movie. Great for whale lovers, sea life lovers, kids and easily entertained adults. A family film first rate. Directed by László Benedek Produced by László Benedek, Lamar Boren, Ivan Tors Written by Arthur Weiss Starring Robert Lansing ... Hank Donner (veteran tv actor) John Anderson ... Joe Clausen (veteran Western actor) Robin Mattson ... Lisa Rand Richard Erdman ... Deke Lee Meriwether ... Kate Rand Joe Higgins ... Burt Michael Shea ... Nick Clara Tarte ... Carrie Edwin Rochelle ... Charlie Music by Samuel Matlovsky (original music), Tom Glazer (theme song) Cinematography Lamar Boren Editing by Erwin Dumbrille Studio United Artists Distributed by United Artists (theatrical), MGM Home Entertainment (video) Release date(s) August 1966 (1966-08) Running time 89 minutes Country USA Language English
monsieur rick
Namu, the Killer Whale Quotes
There are no approved quotes yet for this movie.
Discussion Forum
Discuss Namu, the Killer Whale on our Movie forum!