Nancy Drew and the Hidden Staircase
(1939)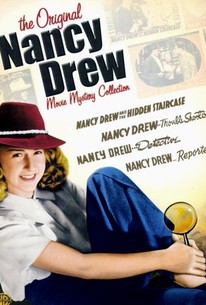 AUDIENCE SCORE
Critic Consensus: No consensus yet.
Movie Info
This final entry in Warner Bros.' Nancy Drew series is the only one actually based on a novel by Nancy Drew creator Carolyn Keene. Bonita Granville returns as the ebullient titular teenaged sleuth, while Frankie Thomas portrays Nancy's best friend and fellow "gumshoe" Ted Nickerson. The plot concerns a bizarre codicil in a will, requiring two elderly sisters to spend every night in their family mansion over a period of 20 years in order to lay claim to the crumbling old house. The ladies plan to contribute their legacy to a local children's hospital, but certain sinister forces in town hope to erect a racetrack where the mansion presently stands. When the sisters' chauffeur is murdered, Nancy and Ted investigate, even though Nancy's attorney father, Carson Drew (John Litel), has expressly forbidden them to do so. Their tremulous journey through the cellar of the mansion leads to a surprising revelation -- and, very nearly, to a watery grave. Arguably the best of the series, Nancy Drew and the Hidden Staircase moves along at so fast a clip that the audience is left nearly as breathless as the heroine.
Rating:
NR
Genre:
,
Directed By:
Written By:
In Theaters:
Runtime:
Studio:
Warner Bros.
Critic Reviews for Nancy Drew and the Hidden Staircase
All Critics (1) | Fresh (0) | Rotten (1)
The Nancy Drew series comes to an anti-climactic close with this utterly ineffectual entry...

Audience Reviews for Nancy Drew and the Hidden Staircase
Teen detective Nancy Drew (Granville) swings into action when she comes to the conclusion that someone is trying to drive two little old ladies (Carner and Lewis) from their home by terrorizing them. The murder of their driver ups the stakes significantly, particularly since Police Captain Tweedy (Orth) becomes convinced the sisters killed him. "Nancy Drew and the Hidden Staircase" is the fourth and final mystery film based on the popular juvenile mysteries for girls. Like the previous installments, I have the sense that the characters here aren't behaving at all like the ones in the books--Nancy Drew is supposed to be the living embodiment of charm, poise and self-possession, as well as being so smart and skilled that she can run circles around any adult and take on any challenge in order to solve a mystery and bring culprit's to justice. But that's not at all the character we have here, nor in other three films in the series. The Nancy Drew in this film succeeds by being manipulative and deceitful... and by having a strange ability to convince her friend Ted (Frankie Thomas) to do anything she asks. Although by the end of this movie, during which she ends up getting Ted humilated in front of much of the town beause he ends up women's clothing, gets him fired from his summer job, and gets him dragged off to jail for evidence tampering, I can only assume that Nancy must be a "friend with beneffits" (and she must be REALLY good at delivering those benefits) if he is to continue to put up with her and the trouble she gets him into. Nancy may be having fun and solving crimes, but Ted seems to be the one paying the price. In fact, by the end of this film, the only thing that will keep Ted out of jail for real is the probable fact that Captain Tweedy (Frank Orth) is so inept that Nancy's father Carson (John Litle) probably has 90% of his practice built around suing him and the police department for defamation of character and wrongful imprisonment and that Ted will walk for that reason alone. Like "Nancy Drew: Trouble Shooter", the film immediately preceeding this one in the series, watching it evoked memories of reading juvenile mysteries back when I was a kid. The last half-hour in particular felt very much like the climax of those books. However, if they had plots as simplistic as this--what we have here is essentially a mystery with only one viable suspect--I like to think I wouldn't have enjoyed them as much. Still, the film's old-fashioned charm, excellent performances by everyone in the cast--with Granville and Thomas being especially good--and an exciting conclusion makes it very fun to watch. (It also provides a window into life in America 75 years ago... a place where icemen delivered ice for literal "ice boxes" in homes, for example. Ted's summer job as an iceman plays a prominant part in the storyline.) Nancy Drew and the Hidden Staircase Starring: Bonita Granville, Frankie Thomas, John Litel, Louise Carter, Vera Lewis and Frank Orth Director: William Clemens
Steve Miller
Nancy Drew and the Hidden Staircase Quotes
There are no approved quotes yet for this movie.