Nancy Drew, Detective
(1938)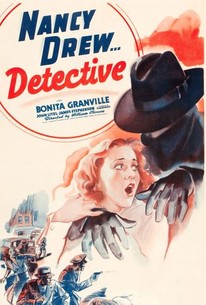 AUDIENCE SCORE
Critic Consensus: No consensus yet.
Nancy Drew, Detective Photos
Movie Info
The first film in the series follows Nancy's efforts to stop crooks from getting the $250,000 an eccentric old lady wants to leave to a school by proving her sanity.
Rating:
NR
Genre:
,
Directed By:
Written By:
In Theaters:
Runtime:
Studio:
Warner Bros.
Audience Reviews for Nancy Drew, Detective
Run of the mill serial is a good snapshot of what kind of product was churned out to fill the bottom half of a double bill back in the day.
½
Good Nancy Drew entry, Bonita Granville is well cast and it is short, sweet and very entertaining. Good cast, fun.
James Higgins
When a wealthy old lady vanishes immediately after pledging to give a $250,000 gift to pay for a new pool for the all-girl school attended by teenager Nancy Drew (Granville), only Nancy believes that foul play may be involved. Roping neighbor and friend Ted Nickerson (Thomas) into helping her, she sets out to solve a mystery that ultimately brings her face-to-face with a band of dangerous crooks. "Nancy Drew - Detective" is a fast-paced mystery/comedy that full of Girl Power 1930s style, with Nancy disregarding much of the rules of the chauvanistic society she lives in while running circles around adults, chasing down crooks in her sportscar and having adventures of the sorts that makes it easy to see why the "Nancy Drew" books became an immediate hit upon their debut in 1930. (While Nancy is smart and headstrong, she's also popular with her friends at school and she's always perfectly dressed.) I haven't read any of the books myself, but someone who has told me that the Nancy Drew in print is far more composed and levelheaded than the one in the movie. I'll take her word for it,but the antics in this film reminded me of the juvenile detective fiction I read as a kid, specifically a series called "The Two Detectives". In those books, a pair of friends constantly got into the sort of scrapes that Nancy is in here, and they even relied on diguises and other bluffs like Nancy does. (Without ruining the film, I think I can reveal that Nancy and Ted infiltrate a private sanitarium, with Nancy in a black dress and veil and Ted disguised as a femal nurse. It gets [i]really[/i] funny when he gets hit on by a lonely gangsters!) Bonita Granville plays a cute and funny Nancy Drew, and she makes a great pair with Frankie Thomas, who plays Nancy's long-suffering pal Ted, who, it seems based on this film, is actually a cut above the usual sidekicks in film from this era. You can actually see why he and Nancy are friends... they are both very smart and they are both interested in seening the right thing done. (Although, Ted does seem to have a little more common sense than Nancy, even if goes out the window when she cooks up some crazy idea.) The rest of the cast is decent, but Granville and Thomas are the stars of the film in every sense. For a fast-paced, lighthearted mystery film that you can sit down and enoy with the young girls in the house, I recommend checking out "Nancy Drew - Detective." Yes, it might be 70 years since the film was released, but the pacing, the jokes, and the overall story still entertains today. (If they're fans of the books, you can even talk to them about how long the character has been around, and perhaps even encourage them to write their own Nancy Drew stories, with their own take on the character. That's what the people who made the movie did, so why can't they?) All four of the Nancy Drew movies released by Warner Bros. in the 1938 and 1939 ("Nancy Drew - Detective", "Nancy Drew - Reporter", "Nancy Drew - Trouble Shooter" and "Nancy Drew and the Hidden Staircase") are available in a two-disc DVD collection. Each disc holds two of the movies along with the theatrical previews for each. [URL=http://www.amazon.com/gp/product/B000NVL1YU?ie=UTF8&tag=stevemillesdo-20&linkCode=as2&camp=1789&creative=9325&creativeASIN=B000NVL1YU]Click here[/URL] to see the product listing at Amazon.com, where you can see more reviews or purchase the set for $20. Nancy Drew - Detective Starring: Bonita Granville, Frankie Thomas, and John Litel Director: William Clemens
Steve Miller
Nancy Drew, Detective Quotes
There are no approved quotes yet for this movie.