Napoleon and Samantha
(1972)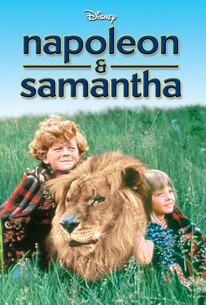 AUDIENCE SCORE
Critic Consensus: No consensus yet.
Napoleon and Samantha Photos
Movie Info
In this heartwarming family-oriented adventure from Disney, an adorable orphan named Napoleon (Johnny Whitaker) is sent to live on his grandfather's Oregon farm. There he is befriended by a college student (Michael Douglas) who has come to the spread to work as a goat herder during the summer. One day a traveling circus comes to town and before it leaves, the lion trainer gives the grandfather an aging lion named Major to care for. This makes Napoleon happy until his grandpa suddenly dies. Not wanting to be sent to an orphanage, the boy convinces the goat herder to help him bury the old man. The goat boy then returns to the wilderness while the youngster and his lion try to get by. Eventually the authorities get wind of the death and come to investigate. The boy panics, and he and the lion set off into the wilds to find the goat herder. A young girl named Samantha (Jody Foster making her feature film debut) joins them and they have many exciting adventures.
Rating:
G
Genre:
,
Directed By:
Written By:
In Theaters:
On DVD:
Runtime:
Studio:
Walt Disney Productions
Critic Reviews for Napoleon and Samantha
All Critics (2) | Fresh (2) | Rotten (0)
New York Times
Top Critic


Audience Reviews for Napoleon and Samantha
An adventurous journey! Johnny Whitaker and Jodie Foster are the perfect pair in their first of two movies together. You will also find Michael Douglas in one of his earliest film roles. When you compare it to other Disney features it is perhaps not a standout, but I still found it to be an enjoyable and engaging family film. (First and only viewing - 2/25/2011)
Adam R
½
Even Gentle Lions Scar I have known for a very long time that Jodie Foster was in this. Indeed, it's her first film role. However, I think this may well be the first time I've ever actually seen it, and I'd always kind of assumed that she was the star. It's true that she was one of the two title characters, but she still wasn't the star. She got fifth billing; while I would have made one change to that, I'd say it's about right. (I would have swapped the chief of police, third-billed Arch Johnson, with the lion, seventh-billed Major, not to mention putting Johnny Whitaker as Napoleon at the top. Still, Michael Douglas's father was a star--who had worked for Disney before himself!) I would imagine she's probably tired of talking about it, but I quite liked her. In many ways, at not-quite-ten, she was the film's rational center. Oh, she makes a few bad decisions, but she is often the one voicing the things the audience is left thinking. Frankly, I can think of a lot of films which would do better for having Samantha in them! Napoleon lives in one of those bucolic Disney mountain towns with his grandfather (Will Geer). His parents are dead; his only other relative is an uncle who has not been heard of in some time. Still, they do pretty well by one another. One day, they are walking through the mountains when they encounter a clown (Vito Scotti). The clown informs them that, alas, he cannot keep his lion anymore. The grandfather's stories have convinced Napoleon that there is no one better suited to taking in an old lion than Grandpa, so they do. They don't tell anyone; they just buy lots and lots of milk, and Grandpa claims he is bathing in it. And then one day, Grandpa dies. As per his last request, Napoleon buries him on his mountain, going into town to hire a man to do the digging. This is Danny (Douglas), a grad student/shepherd. He invites Napoleon to come visit him on his mountain sometime. Then the letter Grandpa wrote to the lost uncle is returned "no forwarding address." Napoleon knows they won't let him keep the lion in an orphanage, so off he goes to see Danny. For some reason, I was convinced all the way through that Napoleon was played by Dermott Downs, who played the bully Truck in [i]Escape to Witch Mountain[/i]. I was wrong, but if I had been right, the characters might almost be the same, since Truck is encountered at an orphanage. It isn't just that Napoleon wants to keep his lion which is the problem, you see; he's afraid that he will be mistreated in a way not unlike the way Truck treats Tony and Tia. He believes he will be locked up and away from the mountains he loves by people who will be cruel to him. He has a view of orphanages, the system as a whole, shaped by the fiction to which he was exposed. For some reason, we see orphanages as cruel and bitter paces, warehouses for children. We see every foster parent as just in it for the money. The home Tony and Tia go to is actually closer to the kind Danny describes; yes, there's a bully, but there almost always is, when you get large groups of kids together. It is also interesting to me that Danny, the "hippie," is the good guy. Only a few years earlier, the Monkees made several jokes about how various characters would be unable to get into Disneyland with their hair/clothing/lycanthropy; the Walt Disney Corporation was not so big on the country's wild and rebellious youth. However, Danny is not only a grad student; he's studying political science or some such other hippie discipline. We are later left to suspect that this is in no small part because he wants to improve the very system that Napoleon will be put into, but whatever the reason, he is actually unjustly imprisoned because of his beliefs. Yes, he's a shepherd, but the reason he's looking for a job is so that he can get a textbook for school. The implication is that he is taking slightly longer to get through classes than is usual, and the film does not judge him for it. Okay, no one is ever going to mistake [i]Napoleon and Samantha[/i] for [i]Citizen Kane[/i]. It isn't exactly High Art; the entire center of the movie is two kids crossing a mountain with a lion. But so what? The kids act like real kids, even if Samantha is constantly making more sense than even a lot of the grown-ups around them. Grandpa is both a bit on the silly side and a kind and loving guardian; most movies would make us choose. Just because he's a little goofy sometimes doesn't mean that he doesn't take very good care of his grandson and want nothing but the best for him. And maybe living with him wasn't the best environment in some ways, but it was far from the worst for Napoleon. What's more, both the film and the adults in it are shown as being sympathetic toward Napoleon's feelings. Even when they know he isn't being reasonable or in possession of all the facts, that doesn't mean they don't understand why he feels the way he does. The lion is just an afterthought, and I bet Jodie Foster would have been happier if it were one no one ever had.
Edith Nelson
½
Michael Douglas and Jodie Foster together. The lion is cool. A good film that is more serious than one would expect and it makes since that the music score was nominated for an Oscar for Best Musical Score Dramatic Film. A touching story that doesn't end all happy but ends realistically. Worth the watch.
Tim Meyers
Discussion Forum
Discuss Napoleon and Samantha on our Movie forum!