Narcosys
(2000)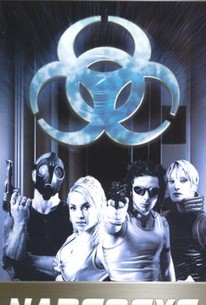 AUDIENCE SCORE
Critic Consensus: No consensus yet.
Movie Info
Set in the gritty future, Narcosys finds the world's population enslaved by a corporation called IT. Through the use of mass-produced pharmaceuticals, they have gained control of nearly everyone, but in order to ensure complete compliance, they are attempting to infect all street drugs with a virus that will create total submission. A gang of cyber-punks is still hawking uncontaminated drugs, however, and now it's a race against time and a struggle between rebellion and the authoritarian state.
Rating:
NR
Genre:
,
In Theaters:
On DVD:
Runtime:
Studio:
Vanguard
Audience Reviews for Narcosys
"Narcosys" is supposed to be about an evil corporation, who is never seen, hiring a girl, whom we know nothing about, to infiltrate a group of a couple of junkies, for a reason that is never given, who kidnap a random factory worker, who never speaks, and who is infected with a virus, which doesn't appear to really do anything, which was apparently engineered by the same evil corporation, completing the grand circle of idiocy.
Lee Mayo
[font=Book Antiqua][size=3][color=red]Oh sweet tender Lord of Mercy. Australia has for the most part been avoided by American audiences, and for good damn reason. Besides Crocodile Dundee and "Mad Max", what has come out of Australia that's even worth mentioning [and I'm being very kind to Dundee]? Well, "Rabbit Proof Fence" is an exception, but it's easily masked by the combined works of Yahoo Serious, a filmography so ludicrous it makes me cry and whimper at the same time. Fearsome stuff indeed. You see, Australia is all about being wacky, and while I guess it's a far better site than being remembered as a penal colony, it's still not something you'd like to model your life after. That's the kind of stuff that shapes grown-up nerds like Marilyn Manson and John Mayer, and have you heard anyone dying to live the life of John Mayer lately? Hey, [i]I[/i] don't pay over a grand a week for phone sex, so I think I'm doing pretty damn well comparably.[/color][/size][/font] [size=3][font=Book Antiqua][color=red] So, when you pick up a movie produced in Australia, you can bet your bottom dollar it'll be full of ass-less chaps, transvestites, and midgets riding retards. But more than anything, you can expect to hear the English language butchered in ways you can't even imagine. Yes, it's even worse than the American South. So when I picked up an Australian [i]indie[/i] movie, God help me, I knew I was going to pound my head into something hard and blunt before everything was over.[/color][/font][/size] [size=3][font=Book Antiqua][color=red] I'll get this out of the way now, because if you're ever unfortunate enough to fucking pick up "Narcosys", you won't be able to avoid it. This movie contains, swear to God, some of the worst dialogue known to mankind. And it doesn't even have anything to do with their accent; the screenplay itself is a document so revolting it could actually be used as a first aid vomit-inducing device. I went through half the movie scratching my head and wondering how [i]not one fucking person associated with this movie realized that the screenplay was not in any sense legible[/i], when I stumbled upon a sobering conclusion. This movie must have been written, directed, acted, edited, and produced by Australia's schizophrenic population, and that the screenplay was nothing but a gigantic word salad. Yes, when I came to the conclusion that these poor, poor people were not mentally retarded, simply disturbed, it really opened up my eyes.[/color][/font][/size] [size=3][font=Book Antiqua][color=red] So I decided I should take it easy on these guys. I mean, it's not really their fault that the CG on display is not only bad for a freshman digital art student, and is laughably overused. I mean, what modicum of professionalism can I expect from these people, considering their lives are filled with more important struggles than producing at least a half-assed, or even quarter-assed, product for which they're paid. And noticing the almost total lack of extras on set, I'd have to say that a total and utter lack of talent is only one of the many reasons why the CG in this movie sucks to such an egregious degree. Think bad Playstation 1 graphics…hell, think Sega Saturn graphics. Yes, I said it.[/color][/font][/size] [size=3][font=Book Antiqua][color=red] And of course, there are the actors, what review of a sub-par indie movie would be complete without them? Wooden is a generous description; I would equate their performances with marble, or possibly granite. Not one iota of passion is given in their performances, which of course makes the awkward sex scenes even less titillating than they have to be. Not that they're surrounded by talent, and the script would suck the will to live out of even the most experienced thespians, but there's no excuse for how god-awful the deliver is in this movie.[/color][/font][/size] [size=3][font=Book Antiqua][color=red] Oh, and there's a scene at a rave, and in my opinion, the only need to film a rave is if a hulking maniac is going to flay everything in its path with a flaming machete. That's just one of the reasons why "Freddy versus Jason" is a better movie than this one, but it's a fairly significant reason in my mind. The movie tries so hard to be disturbing in a Cronenberg-esque kind of way, but if you have a character named Sintax, you're not going to make up enough ground with a poorly done "man-giving-birth" scene. The only way this movie could possibly redeem itself was to torture it's lead characters for at least forty-five minutes, but sadly writer Adam Breasley didn't have the fucking nads to do this, so, fuck him to.[/color][/font][/size] [size=3][font=Book Antiqua][color=red] To say that "Narcosys" is one of the worst sci-fi movies of all time is like saying the Bubonic Plague was a "nasty bug". It's really one of the movies that goes from "bad", down to "funny bad", a down one more notch to "just really, really bad". When you look back at it, campy fun was all this movie had to hope for, but they decided to take themselves WAY too seriously and managed to ruin any fun you could have with this movie in the process.[/color][/font][/size] [font=Book Antiqua][color=red][/color][/font]
Patrick Spohr
Narcosys Quotes
There are no approved quotes yet for this movie.
Discussion Forum
Discuss Narcosys on our Movie forum!