National Lampoon Presents The Beach Party at the Threshold of Hell
(2006)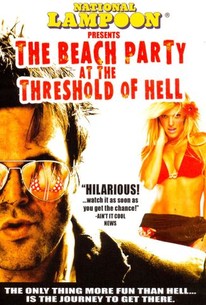 National Lampoon Presents The Beach Party at the Threshold of Hell Videos
National Lampoon Presents The Beach Party at the Threshold of Hell Photos
Movie Info
A handful of America's least likely icons set out to reclaim the nation in the wake of a nuclear apocalypse in this ambitious independent satire from filmmakers Kevin Wheatley and Jonny Gillette. In the year 2075, America's major cities are wiped out by nuclear warfare, and the nation's survivors go underground to wait out the fallout. In 2097, the brave souls who are still around return to the surface to establish the New America, led by Tex Kennedy (Kevin Wheatley), the last survivor of the old nation's greatest political dynasty. Accompanied by his android bodyguards Yul (Chandler Parker) and Quincy (Paul Whitty), Tex sets out from what once was California to form an alliance with Benny Remington (Bill English), who was named king of America during America's two decades underground. Benny was crowned by his uncle, famous car salesman and radio commentator Clark Remington (Daniel Baldwin); however, Clark's deranged son, Vincent (Lea Coco), believes that America's throne is rightfully his, and won't let Benny have it without a fight. As Vincent and his right-hand man, Marcellus (Ted Schneider), search for Benny and Tex, the leaders head to Florida to take on Yorick (Alex Reznik), who has established a powerful fortress called "the Threshold of Hell," a violent domain populated by an army of brainwashed minions. Along the way, they encounter a number of strange and fascinating characters, including friendly cannibal girls, monstrous snakes, distant relatives of Fidel Castro, and perhaps the Devil himself. The Beach Party at the Threshold of Hell: The History of New America, Part One received its world premiere at the 2006 Los Angeles Film Festival.
Critic Reviews for National Lampoon Presents The Beach Party at the Threshold of Hell
Audience Reviews for National Lampoon Presents The Beach Party at the Threshold of Hell
½
Next stop: 2097. The Threshold of Hell. The Beach Party at the Threshold of Hell is a wildly creative and original post apocalyptic film. The first film that popped to mind when I saw the trailer for this film was Six String Samurai, with less sword play. They both feature the same kind of theme of old America is gone and a new land is being born. They both have main characters wearing suits. They both are about journeys. The resemblances could go on. Whether that film was an inspiration for the film makers here or not, I couldn't tell you. Here you'll find zany character after zany character combined with clever and funny dialogue and entertaining fighting and gore. The viewer follows Tex Kennedy, great great (and so on) grandson of John F. Kennedy. Along with his two robot pals, Quincy and Yul, and the sometimes trusty Cannibal Sue, Tex is out on a mission to restore rightful power the young New America. This journey won't be any typical journey. There's a whole lot of fun to be had with this film. It's on a low scale and rather ingeniously made. It has b-movie qualities which give it a rather warm feeling. From start to finish, this film entertains. The filmmakers did a fine job convincing me that America was truly gone. The film plays out like a "twisted History Channel documentary" with a narrator and clips of "historians" who help tell the story of Tex Kennedy and his pals. Some of the most entertaining scenes in this film come with the character interactions. For example, you've got the great grandsons of Fidel Castro and John F. Kennedy meeting in a jail cell. I could go on and on about many of the films characters but I think you should get the point. This film has finally hit DVD thanks to National Lampoon picking up it's rights. Don't let that fool you though, this film is much, much better than the crap they actually create. It's creative, witty, and certainly NOT the worst thing God ever puked up!
Michael Walsh
Cheap, stupid and pointless. Hardly funny, it just wanders around aimlessly with no focus. The cast tries, but with material this bad it doesn't matter. It bored me to death.
James Higgins
Very strange, very non-National Lampoon black/offbeat post-apocalyptic comedy that's not really funny but not really bad either. It's sort of a companion piece to Radioactive Dreams--not that anyone remembers that movie but it has that same 80's gritty vibe going on. The most annoying thing is the audio which sounds like it was recorded in a ventilation shaft.
A.D. Villarreal
Super Reviewer
National Lampoon Presents The Beach Party at the Threshold of Hell Quotes
There are no approved quotes yet for this movie.
Discussion Forum
Discuss National Lampoon Presents The Beach Party at the Threshold of Hell on our Movie forum!