National Lampoon's Gold Diggers
(2004)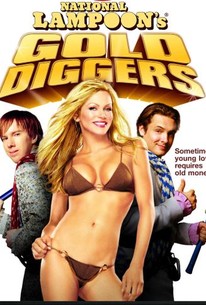 TOMATOMETER
AUDIENCE SCORE
Critic Consensus: It aspires to Farrelly-level offensiveness, but the PG-13 rating and a dearth of decent gags renders Gold Diggers tame, toothless, and dull.
National Lampoon's Gold Diggers Videos
National Lampoon's Gold Diggers Photos
Movie Info
American independent filmmaker Gary Preisler makes his film debut as a writer/director with the black comedy National Lampoon's Gold Diggers. Twentysomethings Calvin Menhoffer (Will Friedle) and Leonard Smallwood (Chris Owen) get arrested for the robbery of two sixtysomething women, Doris (Louise Lasser) and Betty (Renee Taylor). The ladies decide to drop the charges and invite the crooks to their space-age mod Beverly Hills mansion. Cal and Lenny come up with a plan to marry the women for their money in hopes that they die within the year. It turns out that Doris and Betty are actually broke and they're planning to marry the boys, kill them, and cash in on their insurance money. After several unsuccessful murder attempts, all four characters end up robbing Doris and Betty's rich uncle. Originally titled Lady Killers but changed to avoid confusion with the Coen brothers' remake of the classic 1955 film, Gold Diggers was shown at the 2003 CineVegas Film Festival.
News & Interviews for National Lampoon's Gold Diggers
Critic Reviews for National Lampoon's Gold Diggers
Audience Reviews for National Lampoon's Gold Diggers
Gold Diggers was like watching 1 of those way over the top wacky 80's comedys.I can't believe I'm saying this but I actually enjoyed it
Brody Manson
Super Reviewer
When I heard this movie received a number of negative reviews, I knew I had to see it for myself. Just a couple weeks ago I watched it and immediately voted it, personally, my LEAST favorite movie of all time. One reason why I was upset about how bad this movie was is that National Lampoon is the maker of "Animal House", which is the MASTERPIECE of comedies! A few reasons why I hated it are because it wasn't funny in the least bit; the gross-out scenes, I thought, were a little bit TOO gross; I thought it was too short for a full-length film; finally, I don't know why, but I felt really depressed watching it. And it's a COMEDY! Comedies should make you laugh and make you feel good, but this movie was just a sad, sad attempt at a comedy film. The worst part of it is the title of the film has the two words "National Lampoon", the words that can be found in films such as "Animal House" and "Vacation". It's a disgrace.
Terry McCollum
½
As much as I love Lawrence of Arabia & Chariots of Fire & Annie Hall the much and unfairly maligned genre of the raunchy comedy needs tb addressed. A perfect example of it is this flick - while a great many people have heaped nothing but abuse on it I thought it was one of the biggest surprises enjoyment-wise that I've seen in a long time. Parts of it are downright hysterical and the comedic rapport between the four leads is great. Chris Owens & Louise Lasser take what could have been a number of throwaway lines and make them absolutely hysterical. And I'm sorry but that pool scene with Renee Taylor had me laughing so hard I was crying - not to mention her crack about Aristotle (another laugh out loud gem). Will Friedle has enormous goofy charm and a way w/facial expressions that's spot on. I love Fellini and Fincher just as much as the next guy but this flick is incredibly entertaining - just give it a chance & you'll be extremely surprised!!
wolf olroth
National Lampoon's Gold Diggers Quotes
There are no approved quotes yet for this movie.
Discussion Forum
Discuss National Lampoon's Gold Diggers on our Movie forum!