National Lampoon's Barely Legal (After School Special)
(2003)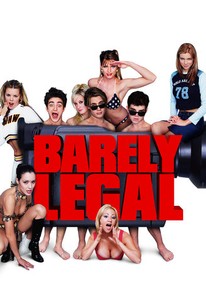 AUDIENCE SCORE
Critic Consensus: No consensus yet.
National Lampoon's Barely Legal (After School Special) Videos
National Lampoon's Barely Legal (After School Special) Photos
Movie Info
Why rent a dirty movie when you can make your own? That's the can-do philosophy embraced by a handful of girl-crazy teens in this comedy. Fred (Tony Denman), Deacon (Erik von Detten), and Matt (Daniel Farber) are three high school kids who, like most teenaged boys, are obsessed with sex. Deacon has a part time job at a video rental shop with a large selection of adult films, and he's been able to sneak porn titles out of the store on a regular basis, to the great enthusiasm of Matt and Fred, who not only enjoy the videos themselves but dub bootleg copies they sell to their classmates to make pocket money. However, when Deacon loses his job, the guys are left high and dry, until one of them gets an idea -- they've seen enough porn movies to know what the average viewer expects from one, so why don't they make one themselves? However, recruiting the performers necessary for such a project turns out to be harder than they expected, with exotic dancer Ashley (Sarah Jane Potts) and neighborhood bully Jake (Riley Smith) rising to the top of a very shallow talent pool. The first production from the guys is an unexpected success, but they soon discover that not everyone is happy with their good fortune, especially sleazy porn kingpin Vic Ramalot (Horatio Sanz), who isn't interested in having more competition. Filmed under the title After School Special, Barely Legal also stars Tom Arnold, Amy Smart, and Dey Young.
News & Interviews for National Lampoon's Barely Legal (After School Special)
Critic Reviews for National Lampoon's Barely Legal (After School Special)
All Critics (2) | Top Critics (1) | Fresh (0) | Rotten (2) | DVD (2)
Lacks even the urge to find a sparkling angle on an overdone subgenre.

Tom Arnold plays Deacon's dad -- his presence really tells you everything you need to know about the film.

Audience Reviews for National Lampoon's Barely Legal (After School Special)
½
Every since the "Vacation" movies dried up, the folks at National Lampoon have been all too eager to slap their name on any old piece of junk hoping to entice people into renting it. The latest is called "Barely Legal", and it's a disgraceful film that jumps on the gross-out humor bandwagon but the writers forgot to make any of it funny. There are a lot of jokes about masturbation and semen, which is I think the biggest indicator of how low the movie sinks. It's sort of a B-movie variation on "Risky Business", with the porn industry subbing for the brothel, but there's no wit or anything sexy about this. Just dumb humor that aims for the lowest common denominator every time. Most of the girls are hot, especially newcomer Sarah-Jane Potts, but that's where their contribution to the film ends. The three lead boys aren't household names, but they all vaguely reminded me of other young actors. Horatio Sanz manages to keep his career on track after "Boat Trip", that is to say he's still embarrassing himself. But faring far worse than him is Amy Smart simply because she had farther to fall. Her career began promisingly enough, but her appearance here makes you wonder how it all went wrong so fast. Another notable career nosedive belongs to director David Mickey Evans, who started out making the sweet and innocent "Sandlot". Now he gives us this dismal picture. "Barely Legal" is a depressing film, full of cliches and sick but completely laugh-less jokes. There is a way to make this type of humor work, but this isn't aspiring to be anything more than just a rental on a Saturday night because you got to the store late and everything else on the shelf was gone.
Timothy Sanders
½
"...and that's the history of the blowhole. Now on to the sea loins. Sea lions as you will see, are not really lions, they have no fur, no tail and do not live in Afirca." -Biology Teacher (Brooke Dillman) Another forgettable sex comedy from Lampoon.
FilmGrinder Stone
a movie i turned to on comedy central on a saturday afternoon while doing chores around the house. aside from one or two witty moments it was a virtual train wreck.
National Lampoon's Barely Legal (After School Special) Quotes
There are no approved quotes yet for this movie.
Discussion Forum
Discuss National Lampoon's Barely Legal (After School Special) on our Movie forum!