National Lampoon's Christmas Vacation
(1989)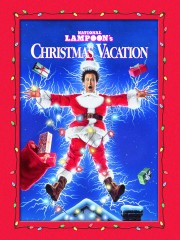 TOMATOMETER
AUDIENCE SCORE
Critic Consensus: While Christmas Vacation may not be the most disciplined comedy, it's got enough laughs and good cheer to make for a solid seasonal treat.
Tickets & Showtimes
National Lampoon's Christmas Vacation Trailers & Photos
Movie Info
This is the third in the "National Lampoon" series about the Griswold family. In this sequel, the Griswolds must deal with a holiday with their in-laws.
more
Cast
News & Interviews for National Lampoon's Christmas Vacation
Critic Reviews for National Lampoon's Christmas Vacation
Audience Reviews for National Lampoon's Christmas Vacation
Chris Weber
Super Reviewer
½
With a powerhouse cast and a hilariously written script by John Hughes, "National Lampoon's Christmas Vacation" is the type of holiday film that never fails to make me laugh my ass off. The plot is simple, following a family through the holidays, where every piece of slapstick in the book occurs. The family is loveable and there are many touching moments throughout this film, even though it may seem like the comedy always takes over. This is one of my favourite films that revolve around Christmas. Chevy Chase is fantastic as always, and just makes the Griswold character funnier than he would have been on paper. The gags are fresh, the cast is awesome, and the direction is very well done, for a comedy that is. I love "Christmas Vacation"!
This is the weakest of the three but its still a very good Xmas comedy, probably the best ever really which still tells you allot. It hits all the right cozy Christmas notes and cliches but because its part of the Griswold series and has Chase hamming it up it still comes across as a great family comedy.

It has a nice animated section at the beginning credits and continues with some great slapstick and dialog throughout, nothing too surprising but it works. The Xmas dinner, the house lights (copied by many now) the squirrel in the tree, cutting down the tree, the snobbish neighbours, 'cousin Eddie' etc...there are still some great moments here but you can see how the franchise is slowly grinding to a halt, this just keeps its head above water :)
National Lampoon's Christmas Vacation Quotes
Ellen Griswold: Clark, I think that it would be best for everybody if they all just went home...before things get any worse.
Clark W. Griswold Jr.: WORSE? How can things get any worse? Take a look around you Ellen! We're at the threshold of Hell!
Clark W. Griswold Jr.: [as company execs walk by] Merry Christmas. Merry Christmas. Kiss my ass. Kiss his ass. Kiss your ass. Happy Hanukkah.
Todd Chester: Hey Griswold! Where do you think you're gonna put a tree that big?
Clark W. Griswold Jr.: Bend over and I'll show you!
Clark W. Griswold Jr.: Hey! If any of you are looking for any last-minute gift ideas for me, I have one. I'd like Frank Shirley, my boss, right here tonight. I want him brought from his happy holiday slumber over there on Melody Lane with all the other rich people and I want him brought right here, with a big ribbon on his head, and I want to look him straight in the eye and I want to tell him what a cheap, lying, no-good, rotten, four-flushing, low-life, snake-licking, dirt-eating, inbred, overstuffed, ignorant, blood-sucking, dog-kissing, brainless, dickless, hopeless, heartless, fat-ass, bug-eyed, stiff-legged, spotty-lipped, worm-headed sack of monkey shit he is! Hallelujah! Holy shit! Where's the Tylenol?
Discussion Forum
Discuss National Lampoon's Christmas Vacation on our Movie forum!
News & Features