Class Reunion
(1982)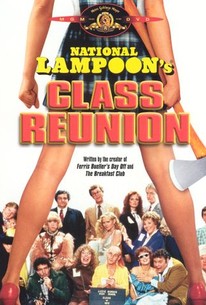 Movie Info
Sendup of horror movies, occasioned by a high-school reunion. Gerrit Graham, Michael Lerner. Gary: Fred McCarren. Bunny: Miriam Flynn. Hubert: Stephen Furst. Iris: Marya Small. Michael Miller directed.
Critic Reviews for Class Reunion
All Critics (7) | Fresh (0) | Rotten (7)
[An] unfunny R-rated comedy that pulls all of its punches.
sucks
February 12, 2008 | Rating: 1/4
...a cheap, amateurish attempt to cash in on the National Lampoon name.
Audience Reviews for Class Reunion
This was the second film to be released under the title 'National Lampoon's' apparently. Unfortunately it was a bit of a disaster and flopped, this could easily be held down to the fact that 'Animal House' was a smash hit before and this film lacked its cast and punch. I guess this may have felt like a rehash of 'Animal House' without Belushi. The plot is merely a spoof on slasher horror films, a high school reunion in progress within an old dusty crumbling school is halted when one of the former pupils goes on a murderous rampage. This student being the butt of a practical joke years ago back in high school by his classmates which mentally scared him. The main issue is there really isn't any murdering going on in the film. There's one kill I think, then the rest of the film is made up of the rest trying to find the killer. The sets and atmosphere aren't that bad I found, it looks like your typical cheesy haunted house affair with dark cobweb ridden corridors and classrooms. The humour is as you would expect from this franchise, its stupid, obvious, predictable and childish, but it serves the spooky quite genre well I suppose. The cast are all pretty obscure, a few recognisable faces but in general no one that can match Belushi and co. All the characters are rather dull really, nothing very funny about any of them accept for Gerrit Graham's character who is a cowardly pompous stuck up rich boy (stereotyping at its best naturally). I didn't think this was too bad in all honesty, its still miles better than all the modern equivalents such as the 'Scary Movie' franchise which takes its cue from this I'm sure. Its hammy as hell but lets remember this was made in 81, at that time all these jokes and setups were new. I suppose if you liked 'Clue' then you may like this silly horror comedy, not really much horror though.
Phil Hubbs
Super Reviewer
½
A mostly stupid comedy/horror movie. It has a couple of funny moments, but overall it's pretty bad.
Personal taste rules when it comes to talking about movies such as this treasured little gem. Way back in the eighties, the early eighties, i discovered this movie, like so many released at the time, "Night Patrol" "Bad Manners" or even "King Frat" the artwork and blurbs on the back of the covers tempted and teased you. Of course being of an age, movies like that i have already mentioned as well as stuff like "Screwballs" and the many others, captured the imagination, and thankfully many years later i still remember some with fondness and some with disdain the many movies that help maintain my love of such genre as parodies or pastiches. Made many years after the huge success of "Animal House" and having seen how it had fared down through the years, I now know that there would be no way this movie would ever eclipse the box office bucks obtain aforementioned nor would it linger in the memory, much like that of National Lampoon's Vacation. To be honest, not everything that has carried the National Lampoon Logo has been a wild success, however to me Class Reunion remains one of my all time favourite movies, with instantly recognisable characters, such as the aloof Bob Spinnaker played to perfection by Gerrit Graham, so good in Charles Band's "Terrorvision" still lingering in the past glories of his youth. Or how about Stephen Furst's brash and ballsy turn as the high school lazy drunken sex crazed bum Hubert Downs. Sweet as. Which makes me ponder. As i already said, personal taste not withstanding. People can be so cruel, so it will never win any awards or be compared to the like of its's peers within the comedy world. It does have some merit. Being one of the earlier scripts penned by John Hughes, who would later go on to do one of my own favourites of his work "Weird Science" as well as having a wonderful theme title sung by the great Gary U.S Bonds. What more can i say, it's a movie just waiting to be rediscovered, time and time again.
Cassandra Maples
Super Reviewer
Class Reunion Quotes
There are no approved quotes yet for this movie.
Discussion Forum
Discuss Class Reunion on our Movie forum!