Nativity 2
(2013)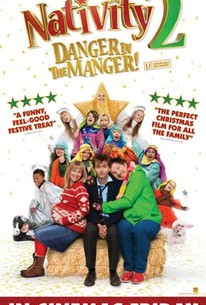 Movie Info
An uptight grade-school teacher enters his class in a national singing competition.
Critic Reviews for Nativity 2
Audience Reviews for Nativity 2
I don't think most people realize this was an unscripted, improvised film. For that alone it deserves some credit and explains the sparse dialogue (to an extent). I think they should have given David Tennant more free rein to exercise his stellar comedic chops. Allowing Marc Wootton to be the main focus dragged the film down. I expected far more witty repartee. Still, it was enjoyable enough Christmas fun for the kiddoes. Sure, it was corny and implausible and had a few too many fart and poo jokes, but consider the targeted audience. The children were delightful and the singing and dancing were fun and entertaining. I think the critics have been too harsh.
laura kay
There are many kinds of bad movies. Technically bad and lazily made movies, offensive movies, ludicrous movies (sometimes this isn't a problem), and deluded movies that try too hard. "Nativity 2" manages to be every single one of these, which is a shame, because it obviously means well. NOTE: This film was made for Children in Need, and in good spirit. That doesn't make up for its quality, but at least gives it a sense of worth, since it was for charity. The kids at least seemed to have a good time.
Cameron Johnson
Your enjoyment of this sequel will depend on how much you enjoyed the 2009 original. Apart from Freeman most of the original cast are back and once again St. Bernadette's school are involved in another competition. Rather than a Nativity we have a 'Song for Christmas' set in Wales which gives Isitt a chance to have fun with different Christmas songs from the competitors. Tennant has fun playing the dual role of twin brothers but isn't as endearing as Freeman. Wooten is as bonkers as before but I quite like his humour. Unlike the first film the situation get a bit ridiculous here (including a scale down a mountain and a birth in a barn) but there's still fun to be had if you're in the Christmas spirit. The competition goes on too long at the end (it feels like Isitt is padding out the film too much) and no-one would consider this great film-making but I found it quite enjoyable.
David Sayers
Super Reviewer
Nativity 2 Quotes
There are no approved quotes yet for this movie.
Discussion Forum
Discuss Nativity 2 on our Movie forum!