Nature Calls
(2012)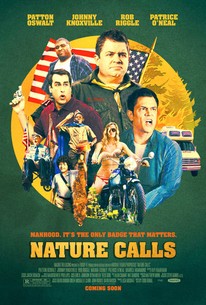 Movie Info
Oswalt stars as Scoutmaster Randy Stevens, whose dwindling, apathetic troop ditches a scout meeting in favor of a TV-themed slumber party hosted by Randy's brother Kirk (Knoxville), his polar opposite and arch nemesis. When Randy rounds up the boys in the middle of the night, stealing them for an highly unauthorized/unorganized trip to the woods, all hell breaks loose as Kirk pursues with a pair of gun-toting employees (Riggle and O'Neal). Drinking, nudity, mishandled fireworks and tremendously inappropriate behavior around minors ensues, in the grand tradition of comedy classics like The Bad News Bears and Meatballs. -- (C) Official Site
News & Interviews for Nature Calls
Critic Reviews for Nature Calls
Audience Reviews for Nature Calls
The lack of an even remotely funny script is pretty glaring, not to mention the fact that this appears to be the same exact script as Bushwhacked, yet it somehow manages to make Bushwhacked look like comedic genius. This is a pretty unfortunate blip on Oswalt's resume, and, if he's going to be the leading man, he's much more suited to dark, twisted humor than stupid comedy like this. David G. Green's involvement is also very questionable, as I'm not sure why he'd lend his name to this piece of garbage in any way.
Josh Anderson
Nature Calls is one of the worst movies I've ever seen EVER! The cast was mediocre, the plot was ridiculous, all of the characters are annoying, and there isn't a single humorous scene in the entire film. Don't waste your time.
Bruce Balsinde
½
Ultimately a charming story about a man-child trying to cling to the ways of the scout troop that got him through his youth, and the lengths that his brother will go to to try and sabotage this. Johnny Knoxville is a complete prick to his brother Patton Oswalt, which eventually drives him to kidnap the scout troop for actual camping in the woods, as their father envisioned, rather than the sanitized, politically correct version of things that their organization has been forced to concede in a modern society. Worth a rental.
Bill Bryant
Discussion Forum
Discuss Nature Calls on our Movie forum!