The Nature of Existence
(2010)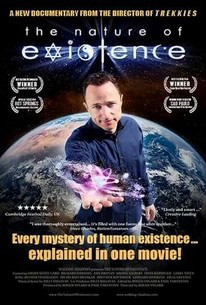 The Nature of Existence Videos
The Nature of Existence Photos
Movie Info
What are the answers to the great questions of life, and who is certain they know the truth others have been struggling to find for centuries? Filmmaker Roger Nygard, after examining the lives of Star Trek fans and used car salesmen, profiles a number of thinkers both great and ordinary in this documentary. For The Nature of Existence, Nygard prepared a questionnaire with 85 weighty philosophical questions, ranging from "Why do we exist?" and "Do we have free will?" to "Who created God?" and "Is there a moral yardstick that applies to all cultures?" Nygard then set out to interview as many people who might have something to say about his list of imponderables as possible, ranging from biologist and author Richard Dawkins, physicist and String Theory creator Leonard Susskind, and Indian spiritual leader Sri Sri Ravi Shankar to a born-again Christian wrestler, the director of The Empire Strikes Back, a pair of self-proclaimed druids, and a pizza cook. The result is a witty, thought-provoking, and often surprising study in the greatest mysteries of life. The Nature of Existence was an official selection at the 2009 Cinequest Film Festival.
Rating:
NR
Genre:
,
Directed By:
In Theaters:
On DVD:
Box Office:
$52,799.00
Runtime:
Studio:
News & Interviews for The Nature of Existence
Critic Reviews for The Nature of Existence
Audience Reviews for The Nature of Existence
A good topic; however, I can't get past the first 10 minutes. It is a male focused & male dominated film. In the first 10 minutes two women speak in comparison to at least 15 men. Not sure why Roger Nygard choose to film male leaders exclusively. Perhaps he can make a film about male privilege, among other privileges, and how greater awareness of these privileges (i.e. is he assuming only men are spiritual great thinkers?) contributes to problems in our society.
sarah ann
A Little Deeper Than [i]Trekkies[/i] One of the things which interested me about this was the reminder that, yes, every major religion has the embarrassing people. I cringed when there was the woman going on about how someone was having a Goddess circlet emergency so dire that only Fed-Ex could answer it, because I know that woman. (Not personally, but you know what I mean.) But then there were wrestlers and drag-racers for Jesus, the guy who believes that antagonizing people is the first step to converting them, because it gets them listening to you. (Hint--I tend to think it's the other way 'round, that you get people who used to agree with you to reconsider doing so.) I think that, if you interviewed enough people of a faith, you would find the embarrassing one no matter what faith that is. It's actually kind of a reassuring thought. It's one of the things which I think gives a certain solidarity to moderates, no matter how devout, of any religious faith. Roger Nygard decided that he wanted the answers to a lot of questions, so he went off to ask them. To as many people as possible. Of all sorts of different beliefs, from Richard Dawkins to one of those crazies who preaches fundamentalist Christianity to mocking college students. (Who declares unironically that God is love, despite the hate-riddled dogma he preaches.) He mostly focuses on the religions which are major in the United States, then going to the countries where those religions have their origins. He doesn't go into much detail about much of any of them, spending a very few minutes each on a lot of people and a lot of issues. He travels to Rome, to India, to Oxford; he talks to scientists, ministers, and just sort of people, including his neighbour's seventh-grade daughter. (She's an atheist and kind of obnoxious about it.) The questions he asks are deep and serious, but the answers he receives aren't always. This could have been a lot better. The film comes to no real conclusions, leaving you to wonder why he bothered making it at all. The movie started with Nygard's own doubts, but we don't ever really find out what he thought after his search. Did he agree with the seventh-grade girl who demanded of a mall Santa why African kids "get genocide for Christmas"? With the Jainists who wear masks to keep themselves from breathing in insects? The church in Texas determined to be a sanctuary for persecuted gays? The New Age people? Orson Scott Card, Mormon? Richard Dawkins, hard-core atheist? The radicals and moderates of a wide range of stances? And what does he think they have in common; what does he think is different about them? Is there a reason he asked Irvin Kirshner all those questions? I mean, Larry Niven and Julia Sweeney at least create art based on their own beliefs. Basically, this became a clip show of belief, drawing no conclusions and answering no questions, and given that he made it personal, it felt like a cheat. Then again, if he [i]had[/i] answered those questions, would I like the movie better? After all, I've never much liked being preached to; it's one of the things I don't like about Richard Dawkins. If he let all those people talk just to throw out their opinions, I'm not sure I would have approved. I just needed something a little more coherent, I think, and this movie wasn't interested in coherency. I'm not sure what it was interested in, except maybe getting the widest possible range of people interviewed. The closest it got to judging anyone is a bit of snippiness at the thought that it would have cost him twenty thousand dollars to get a twenty-minute audience with the Pope. ("You know, for the orphans," apparently.) But hey, he says, the Vatican tour is free, and there are dead Popes on display, so that's something, right? I would have liked something more than what we got, though I'm not fussy about what, I'll admit. Just some reaction to what he sees. Actually, when I was in college, we got a preacher who makes the annoying fundamentalist in this one (Jed Smock) look kindly and rational. Ours actually got busted by the campus police for harassment and may not have been allowed back since. If I remember the story correctly, it's because he was following some girl who was walking away, not one of the crowds gathering around to mock, yelling imprecations about her personal life because of how she was dressed. Turns out the cops weren't about to allow that one to happen. I suppose the mindset was that, if he could persuade one of [i]us[/i] to turn away from our liberal homosexual Satanic ways and follow Jesus, that was better than converting dozens of lesser targets. But he didn't convert anyone; the goal on campus was to figure out how many categories listed as Hellbound on his sign you fit into. And one of my friends checked a Bible out of the school library and read aloud from Song of Songs. Good times . . . .
Edith Nelson
I agree the production has a little bit of ADD but as a person who questions the issues presented in this piece personally all the time it might not be a bad way to run through it. Made me think a lot.
Timothy Tribbett
The Nature of Existence Quotes
There are no approved quotes yet for this movie.
Discussion Forum
Discuss The Nature of Existence on our Movie forum!