Necessary Evil
(2008)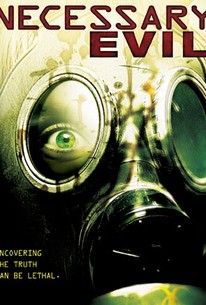 AUDIENCE SCORE
Critic Consensus: No consensus yet.
Movie Info
While trying to shed some light on the mystery surrounding a bizarre psychiatric institute, persistent investigative journalist Deborah Fielding (Knowing's Kathryn Fiore) falls headlong into a twisted, mind-altering world of lies, deceit, and unimaginable terror. Shocking secrets are unlocked in this twisted horror show co-starring Danny Trejo and genre legend Lance Henriksen as an unforgettable doctor.
Rating:
R
Genre:
,
Directed By:
Written By:
On DVD:
Runtime:
Studio:
Critic Reviews for Necessary Evil
There are no critic reviews yet for Necessary Evil. Keep checking Rotten Tomatoes for updates!
Audience Reviews for Necessary Evil
Necessary Evil is an unnecessary movie unless you feel it has been much too long since someone has insulted your intelligence. I don't mean insulted it in the sense of making an unbelievably bad movie, which Necessary Evil certainly is. I mean insulted in the sense that the people who made it actually felt it necessary to tell the viewer that he is an idiot *literally.* Let me put it briefly; the film centers around an evil pharmaceutical firm that's making a drug called Reficul. As soon as you see that word, you're smart enough to spell it backwards and get Lucifer, right? Well, the director and/or writers don't think so. They not only feel the need to have the narrator/main villain tell us so at the end of this crapfest (The narrator actually says, "I am Reciful spelled backward." That's in the script!), but quickly follows it up by LITERALLY saying, "Get it? No, of course you don't. Go back to sleep." See, you're so stupid that even AFTER someone tells your that Reficul spelled backwards is Lucifer, you're too stupid to figure out what Lucifer means. See how stupid you are? Stupid you. Here, let me give you the finger and then explain to you what it means. Sitting through 87 minutes of this garbage is like walking through a museum of cliches. There's not an original scene or line of dialogue in the whole film. At one point, the heroine sits in a jail cell and rattles off cliches to a cop. Actual line of dialogue: "So much for 'to serve and protect.' I'm too much woman for you anyhow. Have a nice day, officer." Ugh. Every cliche and stereotype you have ever seen has been collected in one terrible place, like a bag of unwanted kittens ready to be tossed into a river. In this case, I suggest letting it be tossed. There is no need whatsoever for Necessary Evil.
Brian Seitzman
Just a horrible movie.Im so glad I was smart & didnt stick around to watch it all.If I was you, I wouldnt waste time or $$$ on this 1
Brody Manson
Super Reviewer
necessary evil is a terrible low budget horror film that is not scary nor thrilling. i wanted to see some more blood and violence but unfortunately there was none. its a poorly directed film that tries way to hard to be scary and good and in the end its pointless and not scary. the acting is bad, the plot is bad, the directing is bad, everything about this film is bad, including its title.
Adrian Fylonenko
Necessary Evil Quotes
There are no approved quotes yet for this movie.
Discussion Forum
Discuss Necessary Evil on our Movie forum!