Necronomicon: Book of the Dead
(1994)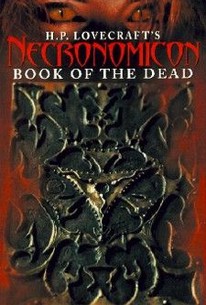 AUDIENCE SCORE
Critic Consensus: No consensus yet.
Necronomicon: Book of the Dead Videos
Necronomicon: Book of the Dead Photos
Movie Info
Three terrifying stories from one great author are brought to the screen in this anthology. Famed horror writer H.P. Lovecraft (Jeffrey Combs) peruses the infamous "Book of the Dead" as he flashes back on three of his own stories. In The Cold , Mr. Madden (David Warner) is a scientist who cannot tolerate warm temperatures; when he falls in love with a beautiful woman who lives in the same boarding house, she learns the startling secret behind his condition. The Drowned concerns Edward De La Pore (Bruce Payne), who inherits a dilapidated mansion from his uncle and discovers the horrifying truth about both his family and his new home. And Whispers tells the tale of two policemen who encounter Mr. Benedict (Don Calfa), who is a denizen of a terrifying subterranean community. Necronomicon was produced for European television in 1993, but it did not see an authorized release in the U.S. until 1996.
Audience Reviews for Necronomicon: Book of the Dead
A fun adaptation of some of Lovecraft's tales related to the Necronomicon but also a very messy movie at that. The most interesting stories are the worse directed and acted and the best talents wasted on the middle story which is too boring and actually, one of Lovecraft's lowest and most uninteresting short stories. A good ride for the fans but overall, too messy and rushed to be truly memorable.
Francisco Godinho
Super Reviewer
½
Several tales of Lovecrafitian horror sewn around a detectives lifting of a copy of the sacred tome. The first vignette around a lost love and a house on a clifftop is wonderfully indicative of the master of horrors grand ideas with some amazing effects work. It's a shame the other segments are simply weak in comparison. Watch the first 30mins for a good time and forget the rest.
Mark Nash
I sat through this film for sheer nostalgia... I watched this back in 1996 or 97, and it was one of those crappy movies that just stuck in my mind, so when I saw that it was going to be on one of the movie channels, I decided to watch it and remember a simpler time. A time when I could be entertained by garbage. The Story: It's three short films based on the works of H.P Lovecraft. The first has something to do with a man who feels guilty for the death of his wife. The second is a story of a man who has figured out how to cheat death by killing people and using their spinal fluid. The third, and the most graphic, is about a cop who finds herself below the city being eaten alive by strange alien type creatures that feed off bone marrow. Each story is graphic and violent and will pander to the fans of splatter films... There's nothing of interest here unless you're a die hard fan of Lovecraft... And even then there's very little of interest. The Cast: Why bother? It's not like their good... All the acting is laughable, all the actors are bad, all the characters are lifeless... Everything about this cast is terrible... Although if you ever need a good laugh, I'm sure they'll be happy to "act" for you. One to Five Scale: 1 I had no expectations for this, and even still it was below what is to be expected. Don't watch this unless you're a fan of really really really bad horror movies. Tyler
Tyler Martinez
Necronomicon: Book of the Dead Quotes
There are no approved quotes yet for this movie.
Discussion Forum
Discuss Necronomicon: Book of the Dead on our Movie forum!