Deadly End
(2006)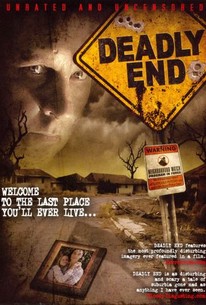 AUDIENCE SCORE
Critic Consensus: No consensus yet.
Movie Info
The tree-lined streets of a picturesque suburban neighborhood cast a dark shadow over a deadly secret in this morbid tale of unhinged madness and vile self-mutilation. When Bob and Wendi Peterson purchased their dream home on Wormwood Drive, they thought they were taking the first step towards a wonderful new life. Their new neighbor, Adrien Trumbull, came by to welcome them with a friendly smile and a box of chocolates, and it seemed as if the couple was now as far away from the crime-ridden streets of the big city as possible. But the madness doesn't stop at the city limits, it has a strange way of corrupting even the most serine of surroundings as well. Now, as Bob and Wendi begin to uncover the terrifying truth about their outwardly smiling neighbor Adrien, they quickly discover how useless the Neighborhood Watch program is when the one you fear most lives just next door.
Rating:
NR
Genre:
,
Directed By:
Written By:
In Theaters:
On DVD:
Runtime:
Studio:
Critic Reviews for Deadly End
There are no critic reviews yet for Deadly End. Keep checking Rotten Tomatoes for updates!
Audience Reviews for Deadly End
Neighborhood Watch (I refuse to accept the ridiculous and cliched Deadly End title it was unjustifiably given) is a VERY tough pill to swallow. On one hand, it is a clever and very original take on the whole Hostel trend mixed very well with suspense and Home Invasion films. A young husband and wife move into one of THE most desolate and psychically unappealing towns ever. Despite it's appearance, the husband apparently has a great job (it's very vague as to whether or not he is having an affair with the boss at times), and the wife stays at home trying to put the house together. It becomes very apparent that some of the neighbors are a bit off, particularly an elderly blind couple who may be trying to scare them or warn them. Another neighbor (the extremely sadistic and unsettling Nick Searcy) is also a weird fella, always snooping around, giving them consumable gifts, and then moving on to more dangerous territory. I gotta say that this movie may be one of the most appalling and unsettling films I've ever watched. It's gruesomeness and obsessiveness towards showing the grossest qualities of man is sometimes so strong that I couldn't help but look away from the screen in disgust. Sometimes, it was just too much for me, which is a rare feat to achieve. That being said, I was pleased to see how the movie turned out, especially with a happy ending, because I honestly didn't know how much more I was capable of taking. This film is a true test to the avid horror movie watcher and has to be seen to be believed.
Jason Duron
½
Prerry Funny Slasher Film, Lets See the wife gets a bouquet of Poision Oak think its flowers, they get posioned, all by the guy next door, hey when he was in my ice box at 4 am I think I would have blow him away then. Pretty Graphic. A rental, Add it to my collection, I think not unless it finds itself in the $3.00 Bin at a pawn shop.
Bruce Bruce
Super Reviewer
½
I found this twisted film to be boring & stupid with some annoying characters but it has few gross-out moments,specially tours the end some gore effects came through that were disgusting.The self-mutilation scenes were so realistic & repulsive,for a low budget film the effects were well done & impressive.Unfortunately can't say too much positive things about the film or the performances.This film wasn't my cup of tea but it might appeal to a lot of gore-hounds.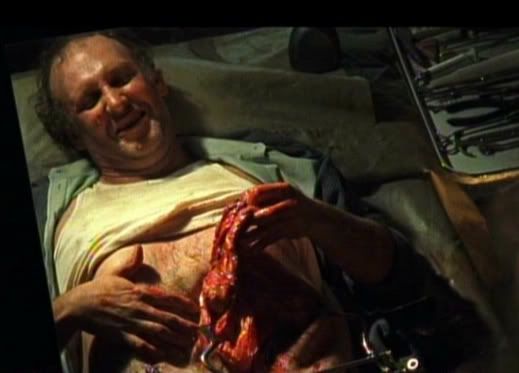 Deadly End Quotes
There are no approved quotes yet for this movie.