The Neon Bible
(1996)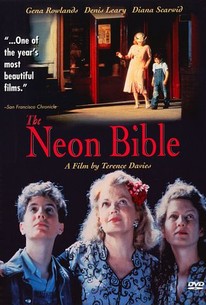 Movie Info
Tinged with sadness, this idiosyncratic film is a moving and poetic drama about a boy growing up in a troubled family in an American Bible Belt town in the 1940s. Much of the story involves his saloon-singer aunt, who is the one bright spot in the boy's otherwise dreary life.
Critic Reviews for The Neon Bible
All Critics (10) | Fresh (6) | Rotten (4)
Though not one of Davies' strongest films, this coming of age tale, set in the American South, has nice, lyrical moments, and is well acted by Gena Rowlands.

What it lacks in dramatic thrust is made up for in the momentary (and sometimes sustained) glimpses of brilliance.

An old-fashioned type of coming-of-age film shot by the Englishman, Terence Davies.

Ozus' World Movie Reviews
Audience Reviews for The Neon Bible
For better or worse, The Neon Bible is yet another trip into the childhood of Terence Davies. Although this is a literary adaptation, the story is so similar to his previous work (cruel father, childhood bullying, idealized mother figures, abusive nature of religion) that the film he's made out of the source material is nearly identical to the three that preceded it. Unfortunately, it pales by comparison due to a couple of stilted performance, but given that it's a Davies film there are several elements that work wonderfully, particularly his signature stylistic flourishes (an emphasis on windows, symmetrical shots, dream-like movement between scenes, poignantly romantic imagery). While not his best film, there's still enough here to qualify The Neon Bible as a solid reiteration of Davies' previous work that stands on its own, albeit in a less compelling fashion.
Reece Leonard
Neon Bible (1995) – "Good crowd. Good money." – Bobby Lee (Evangelist) In the ultra-racist, holy-rolling South of the 1940's, there's a boy that just doesn't belong. Unable to fit in with his peers, all he has is his wife-thumping father and his mentally deteriorating mother until Aunt Mae, too old to work the honkey-tonks anymore, comes to live with them. Aunt Mae (Gena Rowlands), a social outcast among the town's religious zealots, is David's window on the world. The mostly bitter tale unwinds from 15-year old David's (Jacob Tierney - Twist) mind as he rides alone on a train. Director Terence Davies does a good job of staying within the boy's mind as the scenes are reenacted. As a viewer, watching these events unfold from the perspective of a boy's tortured soul is a challenge. Everything's dramatic and over-amplified. The toxic mixture of abuse, intolerance, and religion unfolds in something like a 'stage play musical.' The pace is deliberate with long camera pans and extended scene transitions. The film was both lauded (acting and direction) and disembowled (acting and direction). It may be a bit artsy for some.
Rich Brown
The Neon Bible Quotes
There are no approved quotes yet for this movie.
Discussion Forum
Discuss The Neon Bible on our Movie forum!