The Net
(1995)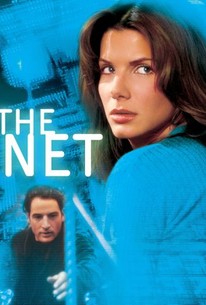 Movie Info
The electronic superhighway is the backdrop for this provocative thriller that centers on the travails of a reclusive hacker, Angela Bennett, who works out of her home in Venice, CA for the Cathedral Systems company. After six years of hard work, Angela prepares to take a much-needed vacation, but just before she leaves, a co-worker sends her a new Internet program that allows her to access highly classified government files. Later, as the colleague flies down in a private plane to visit her, the plane mysteriously crashes. Though a few more strangely connected tragedies ensue, Angela decides to continue on with her vacation in Mexico. There she encounters a suave British computer whiz, Jack Devlin. At first he seems to be interested in her, but it is later revealed that he really wants that useful Net program. Angela is almost killed. But she faces a fate almost worse than death when she discovers that someone on the Net has stolen her identity. Her visa is stolen and replaced with another. When she finally gets home, her house is for sale, and worst of all, she discovers that she is wanted by the police. Jack is behind it all. If he catches her and steals the disk, all of the government's computer security systems would be compromised.
News & Interviews for The Net
Critic Reviews for The Net
Audience Reviews for The Net
Sandra Bullock stars as a computer geek who unwittingly stumbles onto some vague internet conspiracy (" we know everything about you so now we control your life, nya-ha-ha!"), which for us translates into her simply being menaced by Jeremy Northam for an hour or so, only broken up every now and again with folks looking amazed at old style computer screens. Story = one star, Sandra ( I STILL like her) = one star.
Kevin M. Williams
Super Reviewer
Good film! I love Sandra Bullocks work she's an amazing actress!
Bethany Murphy
Super Reviewer
Early technology thriller. Good actors but disappointing plot. A bit of a turkey for Sandra.
Candy Rose
Super Reviewer
The Net Quotes
| | |
| --- | --- |
| Jack Devlin: | What did you think you were trying to do? Save the world? |
| Angela Bennett: | No, not the world. Just myself. |
Discussion Forum
Discuss The Net on our Movie forum!