Never Been Kissed
(1999)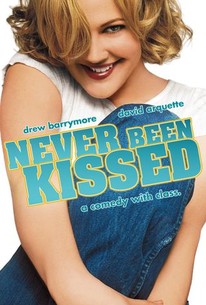 Movie Info
Many people wish they could go back to high school, knowing what they know as an adult; Josie Geller gets the chance to do just that in the comedy Never Been Kissed. Josie (played by Drew Barrymore) is a 25-year-old copy editor at a newspaper in Chicago. But it's her youthful looks as much as her journalistic skills that finally win her a writing assignment: she's ordered to enroll in high school posing as a teenager for a story on the state of America's youth. Trouble is, Josie was a hopeless nerd in high school (called "Josie Grossie" by her classmates); she had no idea of how to fit in with the cool kids, and she's hardly gotten any better at it in the seven years since graduation. While Josie makes fast friends with a bookish girl named Aldys (Leelee Sobieski), and also takes notice of her good-looking English teacher Mr. Coulson (Michael Vartan), she realizes for the sake of her story she has to infiltrate the cool girls' clique, which will be impossible without someone to give her a crash course in hipness. Josie's brother Rob (David Arquette), obviously the more style-conscious sibling, offers to sign up for the same school to act as the cool-guy friend she'll need to fit in, but just when Josie starts making headway (and starts enjoying high school for a change), her editor changes the focus of the story -- he now wants a feature on improper relations between teachers and students, which will not be good for her deepening friendship with Mr. Coulson. Never Been Kissed also features supporting performances from John C. Reilly, Molly Shannon and Jordan Ladd (the latter in a much more wholesome vehicle than her last cinematic visit to cinematic teen-town, Gregg Araki's Nowhere). ~ Mark Deming, Rovi
People Who Like this movie also like
News & Interviews for Never Been Kissed
Critic Reviews for Never Been Kissed
Audience Reviews for Never Been Kissed
I love Drew in these rom coms. She plays a geeky girl who goes back to high school as an undercover reporter.
Candy Rose
Super Reviewer
This is a movie I loved when I was younger, but as I got older it got more ridiculous and less funny. It has a story that has been used in other films, but Barrymore gives it a fresh, cute feel, and it has heart too, so I still like it.
Rob Geller: Wow, that was just like "Carrie"! I thought she was gonna kill us all.  "A Comedy With Class" Never Been Kissed is one of the sorriest excuses for a movie I have seen. It's so annoyingly joyful. It's basically one huge delusion. Hey, I can go back to high school where I never really fit in, and have a second chance. Oh, look now I'm the most popular girl in school and all the boys want to tickle my belly button from the inside(obvious Youth in Revolt allusion). But I'm still the girl I was when no one liked me. I still have a great modesty about me that I'll give up my reign on top for a fellow nerd in need. And you know what? I'll still get the guy. Give me a fucking break. Could this movie be anymore predictable and dull? Answer: Probably, but not much more. The movie is extremely flawed in a variety of ways; some don't even pertain to the travesty they kill this plot. Their high school research was awful. These characters didn't feel like real high school students to me in the way good high school movies like Fast Times at Ridgemont High and Dazed and Confused did. It feels more like their not even using cliche, but just the cliches, cliches. I know that makes no sense at all, but it is the only way to describe this film. Here's the plot. A copy editor get assigned to go undercover at a high school posing as a teenager, and find a story. When the story involves her getting in good with the cool kids, her brother comes along for the ride also posing as a student. This is one of those romantic comedies that you have to have a vagina to watch. I'm a guy who can appreciate good, romantic movies, but when they are as tired and shamefully optimistic as this one, they can't be enjoyed by me. I'm actually a fan of Drew Barrymore, and it pains me that I hate this movie and her character as much as I do, but it's just the fact. The last scene of this movie made me nauseous at how fake and corny it was. I'm gonna put myself in front of the world and let my love come to me. Put five minutes on the clock. I wonder what's going to happen. Fuck this movie.
Melvin White
Super Reviewer
Never Been Kissed Quotes
| | |
| --- | --- |
| Sam Coulson: | Well, all I can tell you is that when you get my age, guys will be lined up around the block for you. |
| Sam Coulson: | All I can tell you is that when you're my age, guys will be lined up around the corner for you. |
| Josie Geller: | You have to say that 'cause you're my teacher. |
| Josie Geller: | You have to say that because you're my teacher. |
| Sam Coulson: | Actually, I shouldn't say that because I'm your teacher. |
| Sam Coulson: | Actually, I shouldn't say that because I'm your teacher. |
| | |
| --- | --- |
| Josie Geller: | That thing. That moment when you kiss someone, and everything around you becomes hazy, and the only thing in focus is you and this person, and you realize that that person is the only person that you're suppose to kiss for the rest of your life. |