Never Been Thawed
(2005)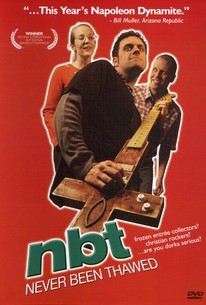 TOMATOMETER
AUDIENCE SCORE
Critic Consensus: Pokes fun at the obsessive personalities that make up peculiar American subcultures, but misses its targets too often to be more than merely passable.
Movie Info
Shawn has been collecting frozen dinners since he was twelve. Today he works part-time as a dental hygienist to cover the cost of operating fourteen full-sized freezers in a one bedroom apartment. Shawn is the founder of the Mesa Frozen Entrée Enthusiasts' Club, a small group of fanatical collectors determined to host the world's first Frozen Entrée Enthusiasts' Convention. Shelly became infatuated with Shawn and joined the club after seeing him sing with his band. In a shameless bid for money and fame, Shawn had recently "converted" his obscene punk band to Christian rock. Shelly, a counselor on an Intercourse Prevention Hotline, a devout Christian and proud virgin was smitten by Shawn's "Christian bad-boy" image. Al, the bass player, questions his bands new direction. He belongs to Shawn's club primarily to foster his secret crush on Shelly. Al's prospects are not helped by the fact that he lives with his parents and works as a "smilist" at Klown Kutz.Milo, the band's manager, owns the No Choice Café - an anti-abortion themed Christian café located across the street from an abortion clinic. Milo believes Shawn's band is ready for the Christian Big Time and has set up a showcase performance for Holy Trinity Records. Meanwhile, Vince, the club's wealthiest member, has assembled an entrée collection that may soon rival Shawn's. Vince's impressive collection makes him a serious threat to Shawn's authority. NBT is a hilarious, dark and smart look at the subcultures that can turn each of us into fans, followers and serious dorks.© -- Slippery Chicken Pictures
Critic Reviews for Never Been Thawed
Audience Reviews for Never Been Thawed
½
Wow, maybe the 2nd best non-Christopher Guest mockumentary. (The best being The Grand.) Well developed characters by a bunch of faces I did not recognize. Great Job!
D M
½
A locally made movie that's pretty funny for the first half-hour or so. Unfortunately, the movie is 90 minute long, and the rest of it plays out like an episode of Family Guy: joke about a gay guy, joke about a deaf guy, unfunny attempt at a joke that gets dragged out until the end of days but still never manages to become funny.
Shawn Towner
½
not for everyone, for sure, but....(at first) deals with the PSYCHOSIS behind collecting, hoarding, and other ocd-like behaviors through satire, and is actually pretty effective and funny. anyone who comments on the "acting" and such doesn't really get the point. the main problem with it is that it quickly segues into so many other things---hypocrisy, bias, and the often fucked up nature of human thought patterns and behavior. needed to either be a cable series, or far more focused.
marie-anne wiltzius
Never Been Thawed Quotes
There are no approved quotes yet for this movie.
Discussion Forum
Discuss Never Been Thawed on our Movie forum!