New Suit
(2005)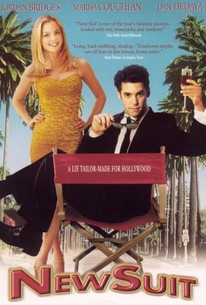 Movie Info
A guy looking for a break in the movie biz discovers the power of word of mouth in this satirical comedy. Kevin Taylor (Jordan Bridges) is an aspiring screenwriter who has pulled up stakes and moved to Los Angeles to pursue his dream. While working a day job, Kevin meets Marianne Roxbury (Marisa Coughlan), who is trying to work her way up the Hollywood ladder as a production executive. Biz-savvy Marianne advises Kevin that it makes more sense to spend his days schmoozing and making contacts rather than writing if he actually wants to get paid for his work and see it on a screen. With this in mind, Kevin takes a job as an assistant to Muster Hansau (Dan Hedaya), a once-powerful producer whose career is in a downward spiral. Kevin comes to realize he's merely a glorified errand boy for a washed-up blowhard, and the only people he meets are fellow lackeys with little real pull in the business, so he decides to have some fun and starts talking up a screenplay called "The New Suit" by Jordan Strawberry, even though both the script and the writer exist only in his imagination. Not wanting to sound out of the loop, no one admits they don't know anything about Strawberry and his work, and before long gossip has turned "The New Suit" into the most sought-after project in town, and Kevin finds himself controlling the destiny of a hot new writer who doesn't exist. The first American film from French director François Velle, New Suit also features Heather Donahue, Paul McCrane, and Amber Smith.
Critic Reviews for New Suit
Audience Reviews for New Suit
Another satirical view of the everyday insanity of working within the Industry, slickly made New Suit adds no special insight to the subgenre.
Lee Mayo
½
:D :D :D :D :D :D :D :D :D :D :D :D :D :D :D :D :D :D :D :D Entertaining because it is outlandish, and yet obviously false (hopefully I'm right about this). Keeping in mind that I am watching fiction allowed me to get a good laugh during the movie. Even though I'm not quite naive enough to think there can't be elements of truth to the story, the real Hollywood would be awfully depressing if this movie were a substantive representation of how the entire movie industry works. But, without knowing how Hollywood really works, I would still have to say the idea of this portrayal being true is laughable, which by the way, is literally what I did while watching it.
Roger Wang
New Suit Quotes
There are no approved quotes yet for this movie.
Discussion Forum
Discuss New Suit on our Movie forum!