New Jersey Drive
(1995)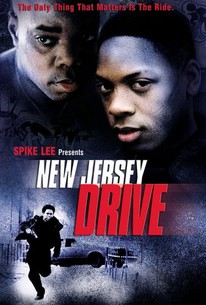 Movie Info
New Jersey Drive opens with Jason (Gabriel Casseus) heading off to juvenile detention then unfolds in flashback as, chronologically, the incidents leading to his arrest surface one by one. First the audience sees his violence and poverty-ridden project; next his go-nowhere delinquent friends are introduced, as is their hobby: joy riding. Soon some of the teens, including Jason, begin to convert their hobby into a part-time job as they steal cars and sell them to a sleazy chop-shop owner for pennies on the dollar. Eventually, luck runs out when they are caught in a police sting; one boy is shot to death by the crooked Officer Roscoe (Saul Stein), who then warns Jason not to tell a soul; however, they continue stealing cars. Meanwhile, Jason beats up a neighborhood acquaintance on the playground for a slight to his sister and finds himself the target of the boy's murder attempts. The action draws to a head as both Roscoe and the vengeful boy close in.
Critic Reviews for New Jersey Drive
All Critics (9) | Top Critics (4) | Fresh (5) | Rotten (4) | DVD (1)
This portrait of black juveniles is technically vibrant, but it lacks a discernible POV to make it dramatically engaging.

Não sei o que é pior: o fato do protagonista jamais reconhecer a gravidade de seus atos ou a decisão do diretor em encarar os crimes dos personagens como meros erros juvenis.

Audience Reviews for New Jersey Drive
There isn't a more realistic movie out there. You would think these are street kids thrown in front of a camera but no, these are legit actors acting. Fantastic film! Lee and Gomez joined together and created an underrated masterpiece.
Scott Flowers
Stunning, fierce, intimidating, and yet grounded in reality - follows inner city school-aged kids and the imminent dangers vying for their lives. An almost horror movie of rebellious, angry youths stealing cars and causing mayhem - poor choices and their horrific consequences. Pervasive Language throughout and people getting shot as you watch. It plagued me for days after seeing it originally.
Thomas Porter
New Jersey Drive is an enjoyable and underrated urban drama. The performances here are all solid in my opinion and actor Sharron Corley is great in the lead role, with diary-like narration. New Jersey Drive places the audience into the lives of project teens living the high life of carjacking in what they perceive as an "unforgiving world", a world plagued with injustice, corrupt cops and racial prejudice in their case. While it may not match the raw power of Menace II Society or Boyz N The Hood, New Jersey Drive is still a worthy urban drama.
Alex A
New Jersey Drive Quotes
There are no approved quotes yet for this movie.
Discussion Forum
Discuss New Jersey Drive on our Movie forum!