A New Kind of Love
(1963)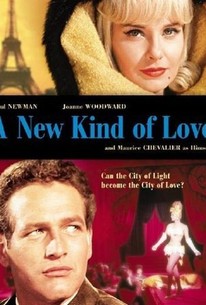 A New Kind of Love Videos
A New Kind of Love Photos
Movie Info
This romantic farce begins when an amorously minded reporter eventually convinces an inexperienced career girl to fall in love. Steve (Paul Newman) is in hot pursuit of Samantha (Joanne Woodward), who gives the hot-to-trot newshound the cold shoulder. Maurice Chevalier plays himself and sings several songs as the odd couple meet and fall in love in romantic Paris. Eva Gabor provides some comic relief in this story that features designer gowns by Dior, Carden and other fashion moguls. Frank Sinatra croons the title tune of this lightweight, forgettable film.
Rating:
NR
Genre:
, ,
Directed By:
Written By:
In Theaters:
On DVD:
Runtime:
Studio:
Paramount Pictures
Critic Reviews for A New Kind of Love
Audience Reviews for A New Kind of Love
½
The beginning of the movie is quite glamorous and charming in a "they don't make 'em like this anymore" kind of way. I especially dig the self-referential commentary in the opening credits, Joanne Woodward's shag mop, and Paul Newman's pouty smoulder. However, the story would have been just fine as an opposite's attract romp. Instead, the mistaken identity/insultingly garish-looking prostitute bit just embarrasses the hell out of Woodward. The message is overtly patriarchal: once-bitten-twice-shy businesswoman secretly DOES want to get married, so she gets a makeover, tells some tall tales, baits a guy, and gets bodily thrown into bed in a clever-if-it-weren't-so-sexist sports metaphor.
Alice Shen
Super Reviewer
½
more an "emperor's new clothes" than new kind of love. it's a pity that woodward's espionage work in Paris wasn't drawn out better (how did she turn from feminist workaholic into full time "courtesan" & emo wreck?) And newman let his his blue eyes do too much of the talking (& mesmerizing). The RItter vs Gabor subplots were the only thing keeping me from falling asleep, aside from the fashion shows.
Aaron Chuah
A down-and-out reporter and a fashion designer fall in love in Paris. Paul Newman and Joanne Woodward's excuse to be together while working is a costume drama, except there's very little drama. It's more like a costume/farce. The rather contrived situations are interrupted by dumb special effects/schtick, and there's almost no character development. Even though Edith Head's costumes are great to look at and Newman and Woodward occasionally have the type of chemistry that only an off-screen husband and wife can convey on film, the film ultimately fails. What is more, films always uphold or reject a certain set of values, and in this case, women are supposed to be virgins who don't work or have any will that isn't subservient to a man. Woodward's character, Sam, is a successful working woman, but in order to woo Steve she puts on the guise of a socialite/prostitute. Think the reverse of As You Like It. Over the course of the film, Sam insists on being called Samantha, and she incurs Steve's wrath for her whore act. Meanwhile, Steve philanders like the last of the red hot lovers, and there is very little comment, as though such behavior is not only accepted but encouraged. The film's conclusion reveals its morality: though made in 1963, the roles of women in this film are stuck in the 50s. Overall, this is another great example for someone looking to write a feminist critique against a movie.
Jim Hunter
Super Reviewer
A New Kind of Love Quotes
There are no approved quotes yet for this movie.