A New Leaf
(1971)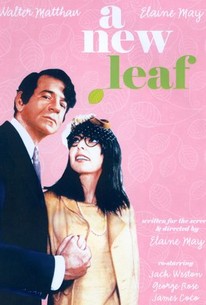 Movie Info
Elaine May wrote and directed (credits May attempted to have removed after the studio made extensive cuts in the film) this dark and funny comedy about marriage, murder, and money. May also stars as Henrietta, a shy and clumsy wallflower, who is also heir to a large pile of money. Indigent playboy Graham (Walter Matthau), who has squandered his inherited trust fund and needs to get a new source of money, begins to ply his affections upon Henrietta. When his butler (George Rose) recommends that Graham should marry Henrietta and gain control of her funds, Graham borrows money from his miserable uncle (James Coco) and wines and dines Henrietta. Graham's dastardly plan is to marry Henrietta, take her off on a trip to the mountains, and murder her. Graham can then return from her funeral and inherit his wealth. But thrown into his path toward the perfect murder are a collection of Henrietta's loyal -- and not so loyal -- retainers and the small dim light of Graham's own conscience.
Rating:
G
Genre:
, ,
Directed By:
Written By:
In Theaters:
On DVD:
Runtime:
Studio:
Howard W. Koch Productions
Critic Reviews for A New Leaf
Audience Reviews for A New Leaf
Excellent unjustly neglected comedy This subtle, low-key comedy should probably be counted among the sort of films they don't make like any more, and more's the pity they don't. Walter Matthau is Henry, an idle rich New Yorker who is so feckless about money that he is bewildered when he runs out of it, even though his lawyer has been warning him for years that he can't keep spending twice the interest from his trust fund annually. He concludes, with a little help from his worldly wise valet Harold, that the only thing to do is to find a rich, unattached heiress and live off her income. After arranging a tide-me-over loan on ruinous terms (he'll have to pay over everything he has if he doesn't get his rich heiress in six weeks) from his evil uncle Harry (James Coco hilarious in a minor role,) he begins his hunt for a bride The idea of getting married is not at all attractive to him, but he figures that, after all, there are ways of getting rid of a wife while keeping her money, so he sets about looking for a suitable woman to "murd- -- uh, I mean, marry." Enter Henrietta (Elaine May,) a supremely wealthy, supremely nerdy botanist. Henry effects a whirlwind courtship and marries her, and after setting to rights her larcenous manorial staff, accompanies his new wife on a botanical field trip to the mountains, where an ideal means of disposing of her presents itself totally unpredictably. But Henry's reaction to the situation is also unpredictable, and there is a predictably happy ending to the whole situation. This film has its own interesting back story. For one thing, it is reputedly the first major American feature film which a woman film maker wrote and directed and starred in. Elaine May was reportedly dissatisfied with the end product, since the studio re-edited the film in a way that made it much simpler and much less dark than she had intended; apparently the director's cut has never been issued. But still the film in its present form will be well worth watching for anyone who feels the phrase "old fashioned comedy" is a recommendation. It won't appeal as much to viewers who buy into the present ethos that a comedy without gross humor, explicit sex, car chases and explosions must be boring. I saw this on the Olive Films 2012 standard DVD, which is of adequate quality. Apparently there is also a Blu-Ray, which I haven't seen.
Jon Corelis
Uneven but quite fun to watch. You do get the sense this was butchered by the studio, which it was, and it definitely should have ended in the death May intended it to end in... that said, it's a satisfyingly grim comedy about how assholes always end up on top. Elaine May plays Henrietta to a 'T' - she's a 3d character you actually emphasize with instead of just an 'ugly duckling' punchline- without the sweetness and depth she brings to this silly character this movie could have been a real bore.
Jenna Ipcar
Darkly funny, even a little touching at the end. Elaine May is hilarious, and fully commits to her character (never gets a makeover, for example). Her barely audible speech pattern is perfect. Matthau is also hilarious, and plays it just right that you don't utterly hate him. Matthau really excelled at likable bastards.
Matt Heiser
A New Leaf Quotes
There are no approved quotes yet for this movie.
Discussion Forum
Discuss A New Leaf on our Movie forum!