A New Life
(1988)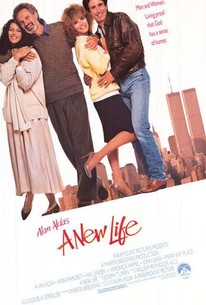 Movie Info
After 20 years of marriage, Steve Giardino (Alan Alda) and his wife Jackie (Ann-Margret) agree to a divorce in this situation comedy. The focus is on both of them as they suffer through matchmaking, blind dates, and their new life as eligible singles. Donna (Mary Kay Place) is Jackie's friend, while Mel Arons (Hal Linden) is the confidante of the vain but likeable Steve. Steven worries that he will never find anyone decent to date until he meets the pretty Dr. Kay Hutton (Veronica Hamel). Jackie is enamored with a sculptor (John Shea) before his glaring faults become too much for her. While Jackie's new relationship is on the outs, Steve prepares for a new life with Kay.
Critic Reviews for A New Life
All Critics (7) | Top Critics (1) | Fresh (2) | Rotten (5)
Has little of importance to say about marriage, divorce, or the dating game. And the four lead characters are thoroughly uninteresting.

Spirituality and Practice
Beautifully understated work by Hal Linden and John Shea suffocated by Alda's self-indulgent, surface-dwelling fortysomething angst.
Tyler Morning Telegraph (Texas)
Audience Reviews for A New Life
Alan Alda was such an iconic television star that the jump to movies was inevitable, and for the most part his films as writer, director and star were quite good. With "A New Life", however, he stumbles a bit trying to enter Woody Allen territory and while the end result is certainly watchable enough it feels more like a TV movie than a theatrical effort. Alda's character would seem better suited to Allen himself or maybe Billy Crystal, and the first half of the picture suffers from wild mood swings. The comedy doesn't work, especially some peculiar moments of broad comedy such as Alda being mugged by a transvestite. He fares better with the drama, which is why the film's second half improves some. There are some nice bittersweet moments here, and if it had been written bolder and not like a movie-of-the-week, there might have been enough to save the picture. I appreciated the way that the couple's new relationships had their share of problems, it makes the movie feel authentic. Alda is a fine actor, even if it does take a bit here to accept his overly pompous character, and Ann-Margret is as luminous as ever. You can't fault how Alda cast his film, but you can find fault with him as a screenwriter. By the time the film finds its footing and I became involved in it as a drama, everything is once again undone by the trite, abrupt ending wraps things up way too quickly and conveniently. "A New Life" isn't necessarily a horrible film, but its full potential is never fully realized. This never should have been a comedic film, and while it does recover from its rocky start, the ending disappoints as well.
Timothy Sanders
A New Life Quotes
There are no approved quotes yet for this movie.
Discussion Forum
Discuss A New Life on our Movie forum!