New World
(2013)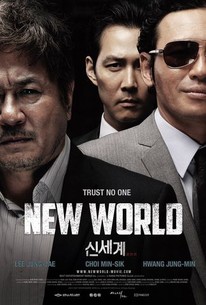 Movie Info
SYNOPSIS: The head of the Goldmoon crime syndicate is dead, leaving his top two lieutenants. Seizing the opportunity, the police launch an operation called "New World," with the perfect weapon. The boss' right hand man, Ja-sung (LEE Jung-jae, THE THIEVES), has been a deep-cover operative for 8 years, closely watched by handler Police chief Kang (CHOI Min-sik, OLDBOY). With a baby on the way, and living in mortal fear of being exposed as a mole, Ja-sung is torn between his duty and honor as a cop, and the fiercely loyal gang members who will follow him to hell and back. (c) Well Go USA
Critic Reviews for New World
Audience Reviews for New World
Korean version of ???, and in my opinion, it is better. One of the best crime genre movie in this century, I truly meant it.
Lau He
A derivative crime movie that wants to be a mix of The Godfather and Infernal Affairs but is so incredibly obvious, overdone and desperate to come up with twist after twist after twist that it drags for much longer past the moment when it should end and becomes utterly ridiculous.
Carlos Magalhães
Super Reviewer
½
I don't know, but I wasn't expecting to enjoy this movie as much as I did. For the most part, it plays out like any other typical crime thriller, with obvious nods to famous films in the genre. The acting is strong, as is typical in these films, but there was nothing that was blowing my mind until a certain point in the film. The film sees Detective Kang, who's Ja-seong's boss and the one who's made him stay undercover in this gang for 10 years, playing every side against each other. This includes the two main candidates for the position of Goldmoon chair, even though there are three, the main character, especially the main character, and his wife. This definitely takes a lot of patience to get through, because you're not even sure where anything is going. But once all the cards are revealed and Kang's motivations are revealed, the movie kick it up a notch and it doesn't stop until the ending. I don't wanna say the film had a clever story, but since the movie focuses so much on Ja-seong and his relationship with the two candidates, the film has a very surprising reveal. Not surprising as in shocking, but in that you completely forget about this third wheel in the cog, and when it's finally revealed there's a nice moment of 'Oh, THAT'S who it was all along.' And I thought that was a pretty cool moment. And I also liked the main character's narrative, because he is this man who has been manipulated by Kang for years to do his dirty work. And this is something that only intensifies during the events of the movie, he's constantly being pushed and ordered around, even when he was promised a reassignment long ago. So it's really VERY satisfying, at the end ***SPOILERS***, when you seea good man who was simply pushed too far and how he rises through the ranks to be the head of Goldmoon and screwing over those who used him. At the same time, the film is also about loyalty. Not necessarily loyalty to the gang, but loyalty to those that were there for you, and that definitely was the reason Ja-seong did what he did, as I don't really think he ever wanted to rule over an entire criminal corporation ***END SPOILERS***. I definitely really liked that part of the film, because it's subtle. They don't beat you over the head with the fact that Ja-seong and Jeong were close, it was something you gradually saw as the film went along. Even if the ending was a little sentimental, I thought it was a well-written friendship. And, of course, no movie of this type would be complete without a lot of violence. The film really picks up the intensity in its last 30 minutes, with the fight scene in the parking lot that was literally pandemonium. There's also this cool scene in the elevator with Ja-seong fighting a bunch of guys. I always like these sort of closed-quarters fight sequences, I don't know but it was a really cool scene. As you can see, I was a big fan of this movie. It's not perfect, as this movie takes a lot of patience to get through before things really pick up, but the narrative of shifting alliances is very satisfying and the acting is very strong, so I can't really complain too much.
Jesse Ortega
Super Reviewer
New World Quotes
There are no approved quotes yet for this movie.
Discussion Forum
Discuss New World on our Movie forum!