New Year's Evil
(1981)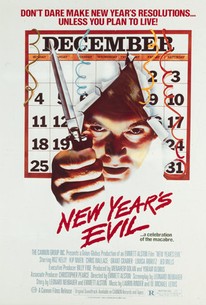 Movie Info
During a New Year's Eve celebration, a Punk Rock & New Wave show host gets a phone call saying that when New Year's strikes in each time zone, someone will be murdered--and she will be the last one.
Critic Reviews for New Year's Evil
Audience Reviews for New Year's Evil
A second rate B-horror film, New Year's Evil has an interesting concept but goes about it rather poorly. The story follows a killer who calls into a punk rock television show on New Year's Eve promising to kill someone every time New Year's hits a new time zone across the country. It's a rather frightful idea and the kill scenes are pretty intense. But it's all undercut by the terrible performances, which are dreadfully awful. Additionally, the "punk" music is just a bunch of generic tripe (with the exception of the title song). While it has a good gimmick going for it, New Year's Evil is full of problems that drag the film down.
Dann Michalski
Super Reviewer
½
New Year's Evil is another in a long line of slasher movies based around major holidays. It also features a hard rock soundtrack based around the theme song to the movie, which tends to get old after a while. It's generally a decent movie, and the story is sort of nice for a change. With a sort of 'Maniac' approach to the story, we know who the killer is all throughout the movie and follow his progress as he moves from victim to victim. The ending has a twist that I saw coming from a mile away, so I don't know what all this fuss is about eluding to some 'great twist ending.' The acting is generally terrible, and the kills aren't all that interesting. The actor who's playing the killer, Kip Niven, thinks he's doing this big theatrical part, as well, but he's too nerdy to pull it off. I wouldn't call this movie a great slasher, but it does have some interesting aspects to it that wouldn't make me write it off completely.
Tim Salmons
Super Reviewer
For some reason I really liked this movie, I suppose it was mostly because of the great ending, it was a fantastic twist, if you ask me. But, yes most of the movie is an average slasher flick. Still, it's enjoyable.
New Year's Evil Quotes
There are no approved quotes yet for this movie.