New York
(1999)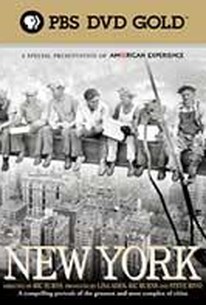 AUDIENCE SCORE
Critic Consensus: No consensus yet.
Movie Info
This compelling series presents a thorough portrait of New York. From Dutch settlement, through the British Empire and slavery, to the "Gilded Age" after the Civil War, the series explores how New York began. Chronicling the New York of enormous wealth and crushing poverty in the late 19th century to the growth of New York as a center of capitalism and media, the series also includes the construction of the greatest icon of New York's skyline, the Empire State Building.
Rating:
NR
Genre:
Directed By:
On DVD:
Runtime:
Critic Reviews for New York
There are no critic reviews yet for New York. Keep checking Rotten Tomatoes for updates!
Audience Reviews for New York
Considering the scope and subject matter of this series, i don't know if you can do a better than Ric Burns did with this. It does take you through almost 400 years of American History, so even though a seven part, 19hour series may seem lengthy, with some subjects you don't feel like you are getting enough in-depth information, and at times it leaves you wanting more... but, that is what books are for.
Roy Z
[url="http://www.rottentomatoes.com/m/new_york_a_documentary_film/dvd.php?select=4"][img]http://images.rottentomatoes.com/images/movie/coverv/22/229722.jpg[/img][/url] I have my first two hours in the can and I must say I loved every minute of it. Eighteen more to go! Ah, the story of New York, the greatest city in the world. [b][i]Update 11 February 2007:[/i][/b] Finished segment number two (another two hours) and it has taken us to just past Lincoln's assasination and the Draft Riots. Wonderfully done, this historical documentary is so enjoyable to watch! [b][i]Update 17 February 2007:[/i][/b] Segment number three has been viewed and the show only gets better. This segment takes us up to 1900 and the building of the Brooklyn Bridge, not to mention the serious capitalism going on and the resulting dire conditions of many New York immigrant workers. I found it interesting that one historian made the point that during this period "NYC ushered in an alternative social logic, a different ethical calculus. One that says that New Yorkers are entitled to certain things, whether or not they can afford to pay for them, by virtue of being New Yorkers. And that includes pure water, public health, affordable housing, education at variety of levels, civil liberties, religious liberties. It says that social justice is a commensurate good with the accumulation of private profit." Those comments really made me think. Not to mention I noticed there were beautiful piers where Washington Square Park would be, that flanked the Arch and are no longer there. I am quite interested over where they went. It was at one time a grand, grand entrance to Fifth Avenue heading uptown. [b][i]Update 24 February 2007:[/i][/b] Completed segments 4,5, and 6 with 6 being the most interesting of the three. The whole series is fantastic though, and I am looking forward to viewing the last two which are queued for next weekend. [b][i]Update 5 March 2007:[/i][/b] Completed all eight segments with number eight being the kicker. World Trade Center history and 9/11 demise. Governor Cuomo was excellent. Wish more people would listen to him. The entire series was life-changing, believe me. What a wonderful, and flawed, city. Extremely excellent piece of work.
M Sarki
New York Quotes
There are no approved quotes yet for this movie.