Next Goal Wins
(2014)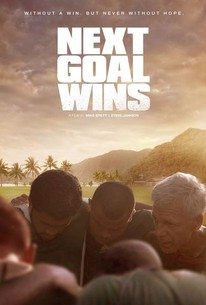 Movie Info
IN 2001, THE TINY PACIFIC ISLAND OF AMERICAN SAMOA SUFFERED A WORLD RECORD 31-0 DEFEAT AT THE HANDS OF AUSTRALIA, GARNERING HEADLINES ACROSS THE WORLD AS THE WORST FOOTBALL TEAM ON THE PLANET. A DECADE AFTER THAT HUMILIATING NIGHT, THEY REMAIN ROOTED TO THE BOTTOM OF FIFA'S WORLD RANKINGS, HAVING SCORED ONLY TWICE IN SEVENTEEN YEARS. THEY HAVE LOST EVERY COMPETITIVE GAME THEY HAVE EVER PLAYED. AGAINST THIS BACKDROP OF SERIAL UNDERACHIEVEMENT, THE TEAM FACE THE DAUNTING PROSPECT OF A QUALIFICATION CAMPAIGN FOR THE UPCOMING 2014 WORLD CUP IN BRAZIL. IT WOULD TAKE A MIRACLE-MAKER OR A MADMAN TO TURN THE TEAM'S FORTUNES AROUND - AND IN MAVERICK DUTCH COACH THOMAS RONGEN THE ISLANDERS SOMEHOW FIND BOTH. AS A LOAN APPOINTMENT FROM THE MIGHTY U.S. SOCCER FEDERATION, WITH EXPERIENCE OF PLAYING ALONGSIDE FOOTBALL GREATS LIKE GEORGE BEST AND JOHANN CRUYFF, RONGEN IS COMPLETELY UNPREPARED FOR WHAT GREETS HIM ON THE ISLAND - IN HIS OWN WORDS IT IS "BY FAR THE LOWEST STANDARD" OF FOOTBALL HE'S EVER SEEN, WITH ONLY HALF OF HIS TEAM EVEN FIT ENOUGH TO PLAY A WHOLE GAME. A LACK OF ATHLETICISM TO ONE SIDE, THOMAS' AILING SQUAD CONTAINS THE EMOTIONALLY SCARRED GOALKEEPER WHO CONCEDED 31 GOALS AGAINST AUSTRALIA A DECADE EARLIER AND A MEMBER OF SAMOA'S THIRD GENDER, THE FA'FAFINE, WHO LIVES 24/7 AS A WOMAN. TO COMPLICATE MATTERS FURTHER THE TEAM'S BEST PLAYER HAS BEEN POSTED 6000 MILES AWAY BY THE US MILITARY. WITH THE TEAM ABOUT TO EMBARK ON A GRUELLING WORLD CUP QUALIFICATION CAMPAIGN, RONGEN HAS JUST ONE MONTH TO TRANSFORM THIS RAGTAG OF LOSERS INTO A WINNING TEAM - AND PERHAPS LEARN A LITTLE ABOUT HIMSELF ALONG THE WAY.(c) Official Site
Rating:
NR
Genre:
,
Directed By:
In Theaters:
On DVD:
Runtime:
Studio:
News & Interviews for Next Goal Wins
Critic Reviews for Next Goal Wins
Audience Reviews for Next Goal Wins
½
For sports fans, there's nothing more hopeless than cheering for a perennial loser. Die-hard supporters of the Detroit Lions, Cleveland Browns, and Kansas City Royals, among other notoriously bad franchises, know the agony of defeat all too well. But they've got nothing on the people of American Samoa. The soccer team that represents this small Pacific Island nation is all kinds of awful. In a 2002 World Cup qualifying match, American Samoa lost to Australia 31-0-the worst margin of defeat in the history of the event. Prior to the events depicted in the documentary Next Goal Wins, they'd only won one international match. Ever. That was all the way back in 1983, which meant they were going on 30 years of nothing but losing when directors Mike Brett and Steve Jamison's cameras started rolling. Heading into 2014 World Cup qualifying, American Samoa soccer was still rudderless. They were a rather tightly knit crew, but the game wasn't their biggest priority in life, and understandably, they came up a little short in the confidence department. Enter Thomas Rongen-an eccentric Dutchman who was the only person crazy enough to apply for the American Samoan national team's head coaching vacancy. He has a tough time assimilating at first; an avowed atheist, Rongen doesn't quite understand American Samoan religious traditions or why they take precedent over practice. This leads to a major blowup between him and American Samoa soccer executives. The film also paints him as a stubborn ass, but he's so much deeper than such a simple characterization would allow. He shares his tragic story-of losing a daughter in a car crash-with the audience and slowly comes to understand these people and this culture. It's an arc rarely found in non-fiction filmmaking, but one that helps this film rise above its familiar athletic underdog formula. Next Goal Wins' other big "character" is Jonny "Jayieh" Saelua, a defender for the American Samoan team who is also FIFA's first transgender player. Jayieh is a sweet soul and a real charmer-maybe not the most talented player on the team, but one who absolutely earns playing time. It's nice to see the filmmakers give her story its fair shake, but it also occasionally feels awkwardly shoehorned into an otherwise simply told sports story. Social commentary and athletics absolutely belong in conversation together, but Brett and Jamison don't exactly nail the landing in their attempt to marry the two. These asides excepted, Next Goal Wins is an inspiring, smartly executed, and immensely watchable documentary. It follows well-worn conventions, but those conventions are well-worn for a reason. Underdogs don't come more "underdoggy" than American Samoan soccer, and seeing them rise up and fight for victory is intoxicating. johnlikesmovies.com
John Gilpatrick
This documentary reminded me what footie is all about. Uplifting, touching and most of all inspiring with some unlikely heroes. I also, thought it funny in places. American Samoa are the lowest ranked team in FIFA and are more well known for a world record 31-0 defeat at the hands of Australia. The American Samoan FA ask the USFA for assistance and they send Dutch coach Thomas Rongen (the only person who replied to the advert at the USFA). He has played with the likes of Cruyff and Best in the MLS and upon arrival he does not fit in with the culture. Beset with his own personal demons the coach and the players manage to find some common ground and slowly a relationship begins to form. What does not help is that their best player is 1000s of miles away with the US Military and he uses his entire annual leave to be available for the World Cup qualifiers. For me the hero is Jaiyah, the first trans gender to play in a World Cup qualifier. She is no Vincent Kompany but what she does better than anyone is make the tea.....errrm no, I mean buy into the team ethos that Thomas is trying to instill in the squad. Some of the settings for the games are beautiful beyond belief (esp the game away to Samoa) and it made me think back to dreary away games at Plough Lane in decades past for some reason. Oh, and I think the keeper can play a bit too.
Justin Frazer
Super Reviewer
Next Goal Wins Quotes
There are no approved quotes yet for this movie.