Next Stop, Greenwich Village
(1976)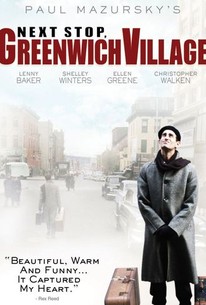 Movie Info
Director Paul Mazursky drew from his own formative experiences as a struggling New York actor in Next Stop, Greenwich Village. Lenny Baker plays Mazursky's alter ego, an aspiring Brooklyn-born thespian named Larry Lapinsky. When not parrying with his overprotective Jewish parents (Mike Kellin and Shelley Winters), Larry must contend with his "method"-happy acting teacher Herbert (Michael Egan); with actress Anita (Lois Smith), who is forever threatening to kill herself over imagined slights; with head-in-the-clouds Greenwich-Village poet Robert (Christopher Walken); and with Bernstein (Antonio Fargas), a black homosexual with an identity problem. Larry's future is threatened when his girl friend Sarah (Ellen Greene) gets pregnant, one of several crises facing this star-crossed couple throughout the film. Keep an eye peeled for young Bill Murray, Joe Spinnell and Jeff Goldblum in minor roles.
Rating:
R
Genre:
,
Directed By:
Written By:
In Theaters:
On DVD:
Runtime:
Studio:
20th Century Fox Film Corporation
Critic Reviews for Next Stop, Greenwich Village
Audience Reviews for Next Stop, Greenwich Village
A semi-autobiographical account of a period in director Paul Mazursky's life. A funny and at times quite poignant telling of Mazursky's choice to leave Brooklyn for what he sees as the glamorous world of Greenwhich Village in 1953. He is pursuing an acting career and becomes part of a vibrant circle of friends, a very eclectic group; a blunt but kindhearted woman, a playboy (Christopher Walken,) an over-the-top funny black gay man (whose buoyant exterior hides a lot of pain,) a suicidal older actress, and the protagonist's girlfriend, who seems ever-indifferent to her lover. His parents provide much comedy, especially his overbearing mother, brilliantly played by Shelley Winters. It is obvious that Paul Mazursky has quite a love for these people as his story moves away from himself and focuses on these loveable, fascinating characters. Lenny Baker, who plays the lead, is very well-suited for the role.
Laura Cameron
Super Reviewer
Everyone Was Cool When They Were Young You know, I tell people that I watch some four hundred movies a year. The observant eye, however, will note that I don't post that many reviews, given one a day, and it's true. On the other hand, I watched [i]Fellini's Roma[/i] last night and [i]The Testament of Dr. Mabuse[/i] this afternoon and didn't really have five paragraphs to say about either. That's how I judge it, you see. There are two half-finished reviews in backlog for movies I enjoyed and want to talk about and just cannot get the full five paragraphs out. Of course, I can make my reviews shorter; I don't actually have to post reviews at all. I am doing this of my own free will, as Harold Lauder said. However, half the reason I write this is to put a little structure into my day, and half of that is doing things right. I was schooled, these many years ago, in the Five Paragraph Essay, so that's what I write, and if I can't, I don't. Larry Lipinsky (Lenny Baker) is only a borderline five-paragraph subject, especially since he's nowhere near as interesting as he thinks he is. He moves out of Brooklyn, away from his mother (Shelley Winters!) and father (Mike Kellin), and into the titular Village. He has a girlfriend, Sarah Roth (Ellen Greene), from the old neighbourhood, but he gains the sort of quirky, interesting people we all want to remember surrounding ourselves with. Though none of these people are also what you might call healthy--how reveals itself for each as the story progresses. There is Connie (Dori Brenner), short and sarcastic. There is Bernstein Chandler (Antonio Fargas), both the token gay and the token black. There is Anita Cunningham (Lois Smith), hurt by life in ways we never know. There is Robert Fulmer (Chris Walken by the opening credits, Christopher Walken by the end ones), handsome and not altogether trustworthy. There are all the other colourful denizens of Larry's life. Broadly, there is even a plot, a sort of bohemian coming-of-age story about a Jewish boy--with an overbearing mother--who Just Wants to Act. There's the love affair with the Girl Next Door, which kind of twists badly with the Just Being Cool. Really, though, the plot doesn't matter. This is just us delving into Larry Lipinsky, and the reason I wasn't entirely sure if I could get five paragraphs out of this was that, frankly, there's not much to be seen in there. Larry's supposed to be talented, and maybe he is, but we never really see it. We're supposed to see his acting coach (Michael Egan) as a pretentious twit, and he is, but he's right that Larry uses his sense of humour to distance himself from the world. I freely acknowledge that pretty much everyone is like Larry when they're young, but that doesn't mean they're worth watching. If Larry's situation weren't so interesting, the movie wouldn't be, either. Honestly, the movie is probably most notable because of young Chris Walken, then the age that I am now, and even-younger (twenty-four!) Jeff Goldblum. Who plays a pretentious twit with no sense of humour, so not actually the Jeff Goldblum we've come to know and love. We have brash, brassy Shelley Winters, which I rather like better than passive, put-upon Shelley Winters, but Goldblum as a pretentious actor willing to throw his personality away with both hands if it'll get him a job is delightful. And Christopher Walken . . . people forget, I think, that he was not an unattractive man in his youth. Yes, now, he'll do any script you put in front of him, apparently literally. However, there was a time when he was young, and in those days, you could believe that he had money from sleeping with older women who were aroused by the idea of a poet. And you could believe that just about every main character except for Larry himself would love to sleep with him. The thing is, don't you remember sitting around with your friends, for preference when you were in college, and having the deepest conversations anyone ever had? Don't you remember sitting in a restaurant/coffee house/coffee shop with them, thinking about how you were a grownup now and didn't have to worry if you'd done enough babysitting to pay for it? Sure, you now had to worry if you had enough left in your paycheck after rent and utilities and actual food, but that's an adult concern, not one for mere kids. Yeah, Larry's friends in this are mostly a hair older than he is, but the mood is the same. Let's face it--a lot of these people are in a state of arrested development. Anita, or at least the actress who played her, was forty-six at the time, but was it really possible to picture her as anyone other than who she was in that time and place?
Edith Nelson
Next Stop, Greenwich Village Quotes
There are no approved quotes yet for this movie.