Next Time I Marry
(1938)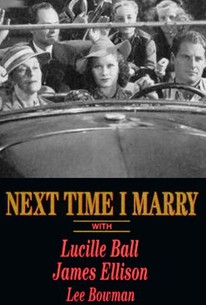 AUDIENCE SCORE
Critic Consensus: No consensus yet.
Movie Info
In this screwy romantic comedy, a young woman stands to inherit $20 million provided she marries an American citizen. To get the money, she marries the first Yankee she runs across -- with every intention of obtaining a quickie divorce in Reno as soon as the money comes through.
Rating:
NR
Genre:
Directed By:
Written By:
On DVD:
Runtime:
Studio:
RKO Pictures
Audience Reviews for Next Time I Marry
½
Lucille Ball is, and remains to this day, one of the funniest female comedians of all-time. Her famous TV sitcom, I Love Lucy, is still ranked as one of the funniest shows ever made and is still put at the top of the list. But Lucy also had a film career as well, and being a curious movie fan, I checked one of her films out. One of her lesser-known films, Next Time I Marry is an interesting and entertaining comedy Lucy starred about divorce. Lucille Ball plays Nancy Fleming, a rich millionaire who can only receive her inheritance if she marries an American. The first man she sees, a ditch-digger named Tony Anthony (James Elison), falls for her plan, which is to marry and then divorce in Reno. Since Nancy is already engaged to the foreigner Count Georgi (Lee Bowman), the marriage hits the papers, and Tony is accused of kidnapping. The two race to Reno and compete over who files for divorce first, but soon realize that they're falling in love at the same time. Also, Granville Bates plays HE Crocker, Nancy's rich uncle, and Mantan Moreland plays Tilby, Georgi's driver. After watching Next Time I Marry, I looked at the Tomatometer score for this, and the community score is at the dreaded 0%. 0%? Why is a comedy starring the hilarious Lucille Ball at a 0%? Sure, it's not as funny as I Love Lucy, but Lucille Ball is, you know, Lucille Ball, and this woman was born funny. Funny, funny, and pure funny, much funnier than "so-called" comedians today, like Seth McFarline. The comedy here is pretty funny. Lucy gets involved in some funny situations, such as being locked in a burning trailer, having competition with a hungry dog, gets caught up with some strangers on the road, and gets herself wet. James Elison has some laughs as the ditch-digger and her chemistry with Lucy is full of comedic energy. No, he's no Desi Arnaz, but it's not the worst couple I've seen on the screen together. Lee Bowman is memorable as the foreign count and has some fun competition with Lucy. And I also enjoyed the hungry dog seen in the film. Like Toto, he's well-trained. The story is very predictable, and I had predicted how the film was going to end, and it happened the way I predicted it. Without giving too much away, it ends on a happy note. While the story wasn't original, the cast and the comedy makes up for a familiar story. Despite a familiar story, Next Time I Marry is an entertaining and memorable comedy filled with fun comedy from Lucille Ball and features some good slapstick humor. It's short (at only an hour long), but with Lucy in the lead, I thoroughly enjoyed myself. And I'm still puzzled by the 0% score. http://www.c1n3.org/k/kanin01g/Images/1938%20Next%20time%20I%20marry%20(ing)%2001.jpg If you go to this site, you'll find the original poster for this film, if you're interested in these kinds of things.
Jacob Martin
Early Lucille Ball romantic comedy, a rather minor film, but with Garson Kanin directing and Ball starring, it can't be too bad, and it wasn't. Brisk pace, enjoyable story and quite short. Predictable, but good natured fun.
James Higgins
Next Time I Marry Quotes
There are no approved quotes yet for this movie.
Discussion Forum
Discuss Next Time I Marry on our Movie forum!