Nico and Dani (Krámpack)
(2000)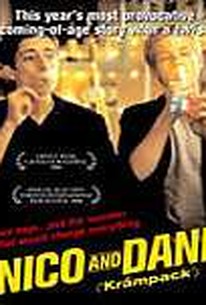 Movie Info
16-year-old Nico travels from Barcelona to visit his best friend Dani at his parent's beach house on the Mediterranean. Determined to lose their virginity that summer, the boys grow closer and it becomes apparent that Dani has feelings for Nico, while Nico is not sure he feels the same way. Over the course of the summer, the two boys must acknowledge their different sexualities while still maintaining their friendship.
Critic Reviews for Nico and Dani (Krámpack)
Audience Reviews for Nico and Dani (Krámpack)
An interesting "coming of age" story. Does I good job of showing the struggles of coming to terms with your sexuality. The struggle between exploring your true feelings and coming to terms with your feelings based on that exploration and simply doing what "society" expects of you to spite what you amy or may not be feeling. And more importantly it shows just how ridiculous it is to think that you have it all figured out based on one or two (early) experiences in life and how important it is to be open and honest with yourself and those who are close to you about what feels right for you. Sadly, the film ends on a rather flat and incomplete note - but for the most part it was rather touching. (No pun intended!)
Nico and Dani (Krámpack) Quotes
There are no approved quotes yet for this movie.