Night of the Demon
(1980)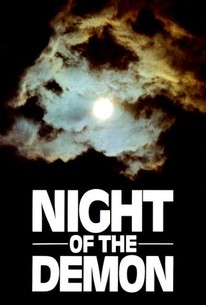 AUDIENCE SCORE
Critic Consensus: No consensus yet.
Night of the Demon Videos
Night of the Demon Photos
Movie Info
In this gory horror outing, students of anthropology are out doing field work when they are set upon by an enraged (and later inflamed) Bigfoot who attacks them and then impregnates one of the women.
Rating:
R
Genre:
Directed By:
Written By:
On DVD:
Runtime:
Audience Reviews for Night of the Demon
½
2.5 out of 5 stars. Over-the-top film dealing with anthropology students tracking Bigfoot through the backwoods. Bigfoot doesn't take too kindly to this, and disappears a lot of people. Most of the mutilations are presented via flashback (also shown is Bigfoot forcefully making a half-breed on a lady). This isn't at all related to the 1957 film by the same name (which actually had a demon). Pretty much what you'd expect from a film which was on the infamous "Nasties" list drawn up by UK censors.
D M
½
A killer Bigfoot beast mangles locals and a group of students who had set out to prove the existance of the ravenous hairy monster in the American wilderness. A bad film but it's not without it's fun and redeeming attributes. The kills are the stand-out moments for me - gory and quite humourous at times too. It's all quite cheesy from the acting to the dialogue, but the beast itself was actually not too bad looking, unfortunately you only really get to see it properly right at the end. In between the bloody death scenes the film does get a little boring at times when the bad and cheesy fun side loses it's appeal. It's not among my favourites of the video nasties but it entertains enough.
½
Well yes and no is this really a good movie? Well to me it's a great horror movie that is slightly underrated and to Meany it could have been the best Halloween movie to watch. I have yet to see the other night of the demon movie but after august m's review I decided to see this despite how terrible it looked from trailers and stills. But still it shows to be the best Bigfoot themed movie I have seen in years. So the movie is shown is flashbacks when our real Bigfoot raped some girl...........Gave birth to some screwed up mutation.........And it kills a few people.......Flashback........Flashback......Guy gets his dick ripped off.......Retard bigfoot's son!......The end I don't think it is worthy of the title of night of the demon here are a few of mine *Retarded Bigfoot *Annoyingly awesome film with bad flashbacks and a retarded looking Bigfoot *BIGFOOT RAPES! *BIGFOOT RAPEY GIVES BIRTH TO MONSTER! *Don't go into the woods or Bigfoot will get you *IT RAPES! *forest holocaust only with Bigfoot *Or just plain looking retarded Bigfoot. But the title doesn't matter its only a really cool film with screwed up bigfoot. -100% for story for all the film you like WTF just happened the kill scenes are the best part. 70% for acting is okay at best 20% bloodiest kill scenes yet the lamest effects I have ever seen. For example *He pushes some guy onto a pitchfork *Makes 2 people stab each other *And tears out some guys intestines Most things I have seen is that Bigfoot rarely ever kills someone with his hands it all the environment kills WERE ARE THE CLAWS????? AND BIG FEET?????????? 60% for characters Bigfoot is the best one out of all 80% for everything else All I can say from this point is awesome Bigfoot themed film that needs just one watch. Skip throw the flashbacks though. Keiko's score 70-100
Night of the Demon Quotes
There are no approved quotes yet for this movie.